Sebastian Vettel will not be stripped of his world drivers' championship after the FIA confirmed his overtaking of Jean-Eric Vergne during the Brazilian Grand Prix was legitimate.
During lap four, Vettel was seen passing Vergne under yellow flags, which forbid overtaking due to potentially hazardous racing conditions.
However, the manoeuvre is deemed to be legal as a steward was waving a green flag in the vicinity of the German, overriding the yellow flashing lights both track side and on the drivers' steering wheel.
Ferrari, whose driver Fernando Alonso finished three points behind Vettel in the drivers' championship and would benefit from any retrospective punishment, have asked for clarification over the ruling however the FIA have confirmed the Red Bull driver will not be reprimanded.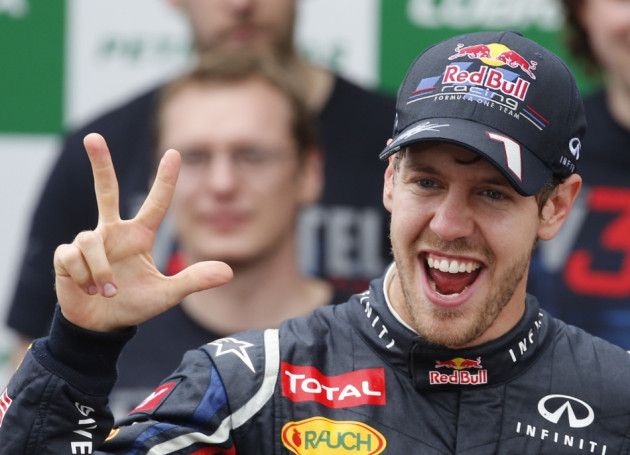 "The incident wasn't reported to stewards in the first place because it didn't seem like there was a need to report it at the time," Norman Howell, the director of communications for the International Automobile Federation (FIA), told The Associated Press.
"Now that Ferrari has sent us a letter asking for an explanation we will give it to them."
Should the FIA unexpectedly reverse the decision, a 20 second penalty would be enforced on Vettel, dropping him to eighth and leaving Alonso the world champion for a third time.
A Ferrari spokesmen said: "We're looking at the video. We have until tomorrow to file an appeal,"
The FIA's sporting code states: "The period during which an appeal in review may be brought expires on 30 November of the year during which the decision that is liable to review has been handed down, if that decision is likely to have an effect on the result of a championship."
Vettel became the youngest ever three-time world drivers' champion after finish sixth in Sao Paulo, denying Alonso of the title after he finished second behind McLaren's Jenson Button.
Leading by 13 points going into the final grand prix of the season, Vettel fell to the back after a collision with Bruno Senna on the first lap, but clawed his way into the points scoring positions to snatch a third consecutive title.