Ferrari's Sebastian Vettel will need to be on his very best behaviour at the Austrian Grand Prix in just under a fortnight's time after incurring a further sanction following his controversial clash with Lewis Hamilton during an incident-packed race on the streets of Azerbaijan on Sunday (25 June).
The four-time world champion ran into the back of Hamilton's Mercedes W08 on the exit of turn 15 while they awaited the restart under the Safety Car, angrily insisting that he had been brake-tested - a claim later disputed by official FIA data - before pulling up alongside the Briton and gesticulating angrily before appearing to swerve into him.
Vettel, who eventually finished one spot ahead of Hamilton in fourth to marginally increase his championship lead to 14 points, subsequently served a 10-second stop-and-go penalty for dangerous driving.
His seething title rival deemed that penalty insufficient, however, and the FIA stewards later revealed that he had also had three more penalty points added to his license.
That takes Vettel up to nine, meaning he would incur an automatic one-race ban if he receives three more. Two of those points are due to expire after Austria, where any further outbursts could see the hot-headed German put himself in danger of missing the British Grand Prix on 16 July. Such an eventuality would obviously come as an enormous blow to his championship hopes
Vettel's first two points came at Silverstone last year, where he was accused of forcing Felipe Massa off the track. He accrued two more for changing direction under braking while holding off Max Verstappen in Mexico and was handed a similar punishment in Malaysia after being deemed to have been "predominantly" at fault for a crash with Nico Rosberg at the first corner.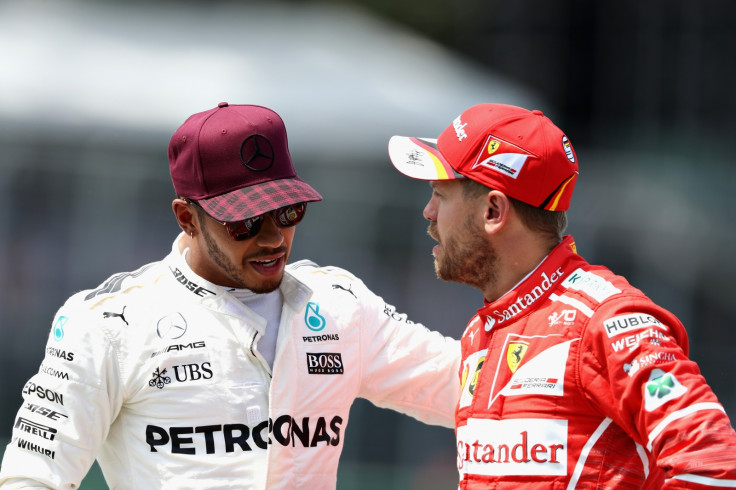 Hamilton, who as race leader retained the right to control the pace under Safety Car conditions, was furious after that row in Baku, claiming that Vettel had "disgraced" himself as a previously respectful title battle between two friends took on a somewhat nasty edge. He said it set a bad precedent for the rest of the paddock and for children watching at home.
"If he wants to prove that he's a man, I think we should do it out of the car face-to-face," he fumed. When asked if he expected to receive an apology, Hamilton said: "I don't fancy seeing him. It might turn into something else."
Commenting on the initial incident post-race, Vettel, seemingly none the wiser as to why he had been penalised, reiterated that he had obviously been unnecessarily brake-tested by Hamilton - and not for the first time.
On the controversial second clash, he said: "We had a little contact, but I drove alongside him mostly to raise my hand. I did not give him the finger. I just wanted to tell him, because I can't literally talk to him, that what he did was not right."