A German war dossier has revealed Nazi troops planned to invade Britain using images from postcards and calendars.
The book, described as a "Nazi A-Z of Britain", shows what could have been reality if Adolf Hitler had successfully occupied the UK during the Second World War.
The copy, called "Militargoegraphiscke Angaben uber England", has now been revealed for the first time having been kept in the same family since the end of the war.
Believed to have been the fundamental part of the extensively formed German attack plan, the book includes included large colour maps showing all corners of Britain including Newcastle and Cardiff.
It marks which cities where to be destroyed and provides images of key landmarks which would become targets, including Blackpool Tower and the Mersey Tunnel.
The maps and pictures also show which mansions would be allocated to officers and which schools their children could attend. Eton College, the elite establishment in Berkshire, was earmarked as the school for the families of Third Reich ministers.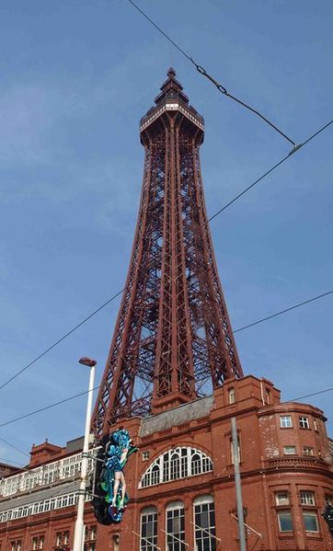 Images of Bristol's Clifton Suspension Bridge and Coventry Cathedral are said to have been used for German paratroopers to identify specific locations.
The pictures and postcards within the book were collected and numbered by military officials before they were prioritised on 12 maps. These would have been handed out to senior officers during "Operation Sealion".
The majority of the images were obtained by Joachim von Ribbentrop, the former German ambassador to Britain in 1936. He collected postcards and calendars to sent back home, before becoming the foreign minister of Nazi Germany in 1938.
In June 1945, Ribbentrop was convicted of war crimes at the Nuremberg trials and was the first defendant sentenced to death to be hanged.
In September 1940, Hitler was forced to scrap the operation because of the Luftwaffe's failure to gain air and naval supremacy over the English Channel during the Battle of Britain. Some historians and leading German military figures have maintained Hitler never intended to invade Britain, although the document suggests otherwise.
Richard Westwood-Brookes, of Mullocks Auctioneers, said: "This rare collection had come from a private collector who had been keeping it in a military library in Austria since 1945.
"It is a top-secret document which only high ranking officers would have had access to. There's certainly not that many around. They would have been kept very safe at the time due to the operational nature of them.
"The plans to strike the south coast as part of Operation Sealion have been well documented previously but this is one of the most detailed examples I have ever seen showing their wider plans for mainland Britain. It's like the Nazi"s A-Z of Britain – it has everything from the topography of certain areas to the numbers of homes, schools and hospitals they have.
"They even had detailed electricity distribution plans and populations for each town and city. There are industrial targets in areas such as Birmingham and Coventry but also pictures of stately homes in the New Forest where they wanted to live."
The document, which was printed in 1940, is expected to fetch up to £500 when it is auctioned at Ludlow Racecourse today.