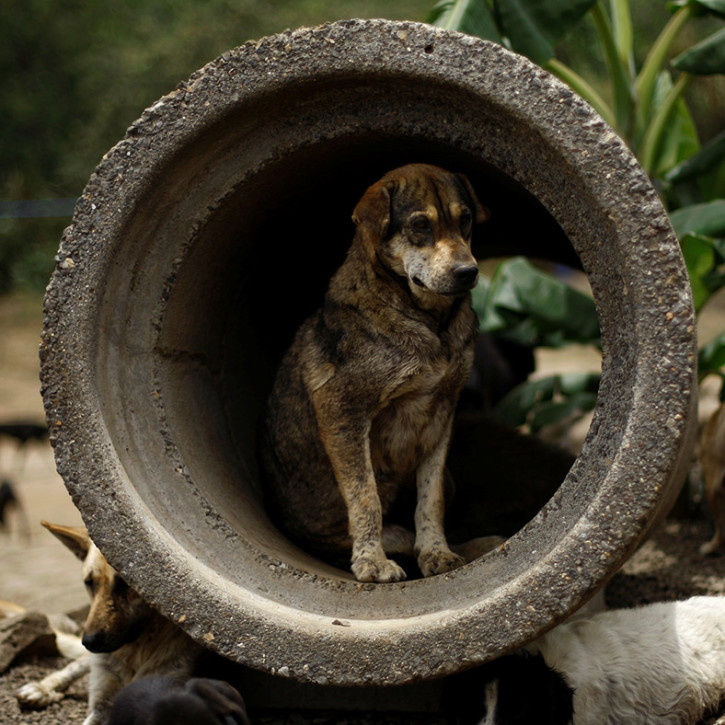 A 41-year-old security guard has been arrested for allegedly indulging in unnatural sex with a stray dog in Mumbai, India on Friday (8 September).
Ram Naresh Mishra was caught on CCTV cameras while forcibly taking a dog to the toilet. The video shows the guard opening the bathroom door few minutes later to let the dog out.
"There are eight cameras deployed in the society and each week I check the footage. On three particular days Sunday, Tuesday and Wednesday, I saw him walking aggressively towards the washroom." Asmita Deshmukh, secretary of the housing society said.
"I noticed something fishy when I saw the dog coming out of the washroom," she added.
Mishra has been booked for unnatural sex, senior inspector Sandeep Dal said.
"We have lodged an FIR under Section 377 (Unnatural sex) of the IPC. He has been arrested on Friday. We produced him in court on Saturday, where he was remanded to police custody. Further investigations are underway," the police added.
Veterinarian Deepa Katyal, the doctor who examined the dog, told The Hindustan Times that the dog's vulva appeared swollen and the animal looked "traumatized". "Her hind legs were trembling and showed unsteadiness. There was also bruising at the lower half of her body," the report said.
People for the Ethical Treatment of Animals, India, has called for strict penalties for people abusing animals.
"People who are violent often start with animals as victims and then move on to humans. This case should, therefore, worry everyone. We call for anyone found harming animals to be punished to the fullest extent of the law and request the government to strengthen penalties for abusing animals in the larger interest of community safety," Meet Ashar, PETA Emergency Response Coordinator said according to Mumbai Mirror newspaper.
In a similar case, a watchman from Thane in the western state of Maharashtra, was "sent to jail", Ashar added.
Earlier on 25 August, a taxi driver from Delhi had sex with a female pup that later bled to death. The driver, who worked with a private cab agency, had boasted about the incident with his neighbours. One of them, an animal lover, alerted the police.
Based on the neighbours' complaint, a post-mortem was conducted on the puppy, which confirmed sexual assault.