An office worker of "previous good character" has been jailed after glassing two men outside a pub in Bristol because she thought they'd given her a "dirty look".
Lynn Tonks, 50, who worked at Blue Arrow Recruitment, attacked Simon Dove and Ashley Williams at the New Moon pub last March in order to "teach them a lesson".
Bristol Crown Court heard how Tonks, who had been drinking on the night in question, believed Dove had looked at her with "venom and hatred" and went up and slapped him in the face.
Later that night, witnesses described seeing Tonks empty her wine on the floor before putting the glass in her jacket pocket. She then went outside and delivered a "roundhouse" punch to Williams while holding the glass.
After the glass shattered leaving just the handle and a shard attached, Tonk then hit Dove just above the eye, leaving him with a huge gash across his eye and a cracked eye socket.
After the attack, witnesses at a nearby bus stop said they heard Tonk shouting: "I'm 50 years of age, I don't need this s**t."
After being found guilty of wounding and causing actual bodily harm, Tonks has now been sentenced to three years in jail.
Tonks had taken part in fundraising campaigns for charities including Help For Heroes. A spokesperson for Blue Arrow Recruitment confirmed her employment has been terminated and the company's "thoughts are with all those affected by the incident".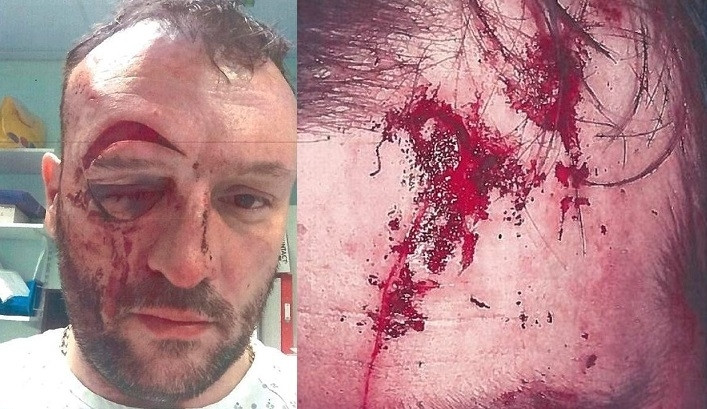 Upon sentencing. Recorder Michael Parroy QC told Tonks: "I accept you made efforts in recruitment to give assistance to those in real difficulties getting into employment and you are of hitherto good character.
"But I saw the CCTV and I heard the evidence of your behaviour on the night in question. It is clear on that night your behaviour was very different from that which had hitherto been seen."
Avon and Somerset detective constable Haley Matthews said: "The fact Tonks was intoxicated was no excuse for the level of violence she used against her victims.
"In using a glass as a weapon, she not only inflicted significant injuries but she also left her victims with permanent scars, which they now have to live with every day.
"Offences of this nature will not be tolerated and we will always do everything in our power to bring those responsible to justice."