Prime Minister Theresa May has decided to play it safe and avoid this evening's (31 May) televised leader's debate.
She has been criticised for the no-show but must reckon that is a price worth paying for avoiding any potential embarrassment on the debate floor.
But if a trip to the British Cheese Awards in Somerset seemed like a safe way to spend the day, she couldn't have been more wrong.
Photographs showing May sampling a lump of Britain's finest dairy product suggest she may be cracking under the pressure of seeing her lead in the polls slashed by Jeremy Corbyn.
In a scene reminiscent of Ed Miliband's infamous 'bacongate' moment, the prime minister was seen struggling to eat like a normal person.
The British Cheese Awards showcase over 800 cheeses and it could be that May was thrown by an unusually strong (and stable) cheddar.
Twitter users reacted with mock-horror to the photos. Alexander McNabb wrote: " Here's a blow-up of that image of Theresa May eating cheese. No, no, no. You're welcome!"
Thomas Colson joked: "Theresa May is eating cheese weirdly in Bath. Why won't the MSM report this?"
This week was has seen the PM attempt to get her campaign back 'on message' after a manifesto U-turn threatened to derail it.
But pictures of her looking both nauseous and terrified as she bites into a piece of British cheese will do nothing to help Trade Secretary Liam Fox as he attempts to secure new export markets for UK farmers.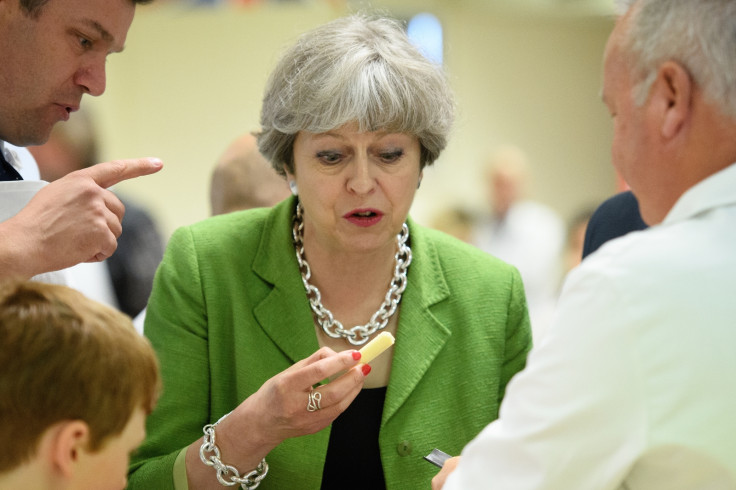 Former Labour leader Miliband was crucified by sections of the British media for, as The Sun put it, making a "pig's ear" of a bacon sandwich in May 2015.
"In 48 hours, he could be doing the same to Britain," their front page added.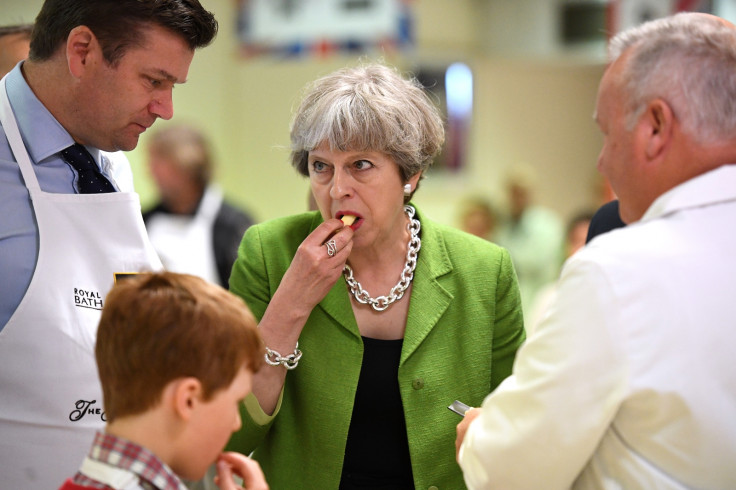 Whether May's indiscretion at the British Cheese Awards will be treated with the same vitriol remains to be seen.
The awards, now in their 23rd year, were hosted at the Royal Bath and West Show in Shepton Mallet. The organisers tweeted that they were "honoured" to be paid a visit by the prime minister.