A new typeface has been developed that automatically censors words that are used by intelligence agencies to monitor emails and social media.
The Seen typeface redacts sensitive keywords based on a list released in 2012 by the Department of Homeland Security.
Seen's creator, Central Saint Martins student Emil Kozole, lists the US National Security Agency (NSA) and the UK Government Communications Headquarters (GCHQ) as security agencies that filter the trigger words.
"This system highlights where you are potentially prone to being surveilled while also preventing you from potentially being tracked," Kozole said. "Seen is an experiment of evasive and reflexive techniques around the topic of online privacy.
"The project explores linguistic systems through the analysis of everyday words and investigates the connection between language, data and surveillance."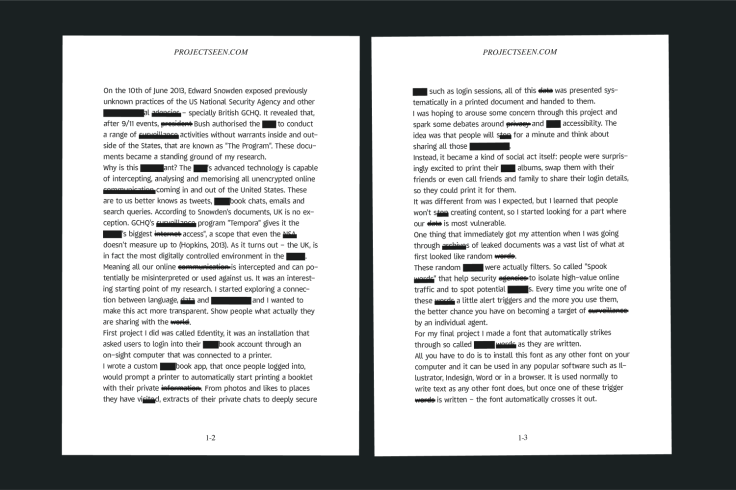 The list of trigger words include "Isis", "Jihadis" and "Guantanamo", as well as seemingly banal words such as "golf", "nerd" and "York".
Kozole claims the so-called "spook words" were used in two separate NSA programmes: Carnivore and Echelon.
The Seen typeface is not the first project by Kozole that has aimed to draw attention to the issue of pervasive online surveillance.
In 2014, he created a Twitter bot called NSA Writer that tweets phrases based on the list of trigger words.
"In George Orwell's 1984, he wrote about a new form of language called 'Newspeak' that will be adopted to prevent radical thinking," Kozole said.
"This system of language Orwell was speaking about can be compared to the ever-expanding spook word list that the NSA is using to conduct their surveillance."