Massachusetts Senator Elizabeth Warren did not hold back in her attacks against Republican nominee Donald Trump as she campaigned for Hillary Clinton in New Hampshire on Monday (24 October). Warren warned the GOP candidate that "nasty women" would defeat him in the polls come Election Day.
"Get this, Donald. Nasty women are tough. Nasty women are smart. And nasty women vote," Warren said to a crowd of an estimated 4,000 at Saint Anselm College in Manchester. "And, on November 8, we nasty women are going to march our nasty feet to cast our nasty votes to get you out of our lives forever."
Warren was referencing Trump's comment against Clinton during the final debate on 19 October in Las Vegas. As Clinton discussed her plans for Social Security, Trump called her "such a nasty woman". The remark was made less than an hour after Trump claimed that no one respected women more than he.
According to NPR, Clinton has been hesitant to acknowledge the insult but her supporters have not. Warren has taken up the job of Clinton attack-dog and has frequently criticised Trump on social media and on the campaign trail.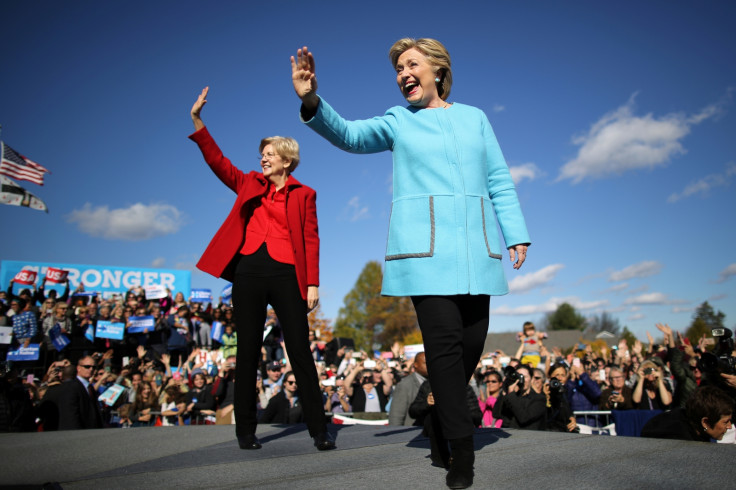 The progressive left darling also attacked Trump by referencing his allegations of sexual assaults, the Guardian reported.
"He thinks that because he has money he can call women fat pigs and bimbos. He thinks because he is a celebrity that he can rate women's bodies from one to 10. He thinks that because he has a mouth full of Tic Tacs that he can force himself on any woman within groping distance," Warren said. "Well I've got news for you Donald Trump. Women have had it with guys like you."
Clinton followed up with a dig of her own, NPR reported. "I kind of expect if Donald heard what she just said, he's tweeting away," she said. "She gets under his thin skin like nobody else."
Trump, who campaigned in Florida on Monday, did not address the insults. The GOP nominee has frequently attacked Warren, calling her Pocahontas and "Goofy Liz Warren". The digs have only helped embolden the Massachusetts senator and increase her attacks against Clinton's rival.