The final debate between presidential nominees Donald Trump and Hillary Clinton on 19 October proved to be a far more level-headed discussion of the issues than past debates. Although far less dramatic than the first two debates, the candidates gave viewers plenty to talk about and even laugh about.
IBTimes UK takes a look at the key takeaways from the last presidential debate before the 8 November election.
Clinton and Trump spar on abortion
The two candidates took two very different stances on the controversial issue of abortion. While discussing the Supreme Court, Clinton was adamant that anyone she would potentially nominate to fill the vacancy left by Justice Antonin Scalia's death would have to be supportive of Roe v Wade.
A pro-choice candidate, Clinton said she would defend a woman's right to choose and spoke of the difficult decision some women are forced to make when their health is in danger towards the end of their pregnancy.
Trump, who is pro-life, argued that the issue of abortion should be decided at the state level rather than at the federal level. "That'll happen automatically, in my opinion, because I am putting pro-life justices on the court," Trump said when asked if he wants the Supreme Court to overturn Roe v Wade.
He graphically described a later abortion as he attempted to pin Clinton as extreme in her views. "With what Hillary is saying, in the ninth month, you can take the baby and rip the baby out of the womb of the mother just prior to the birth of the baby. Now, you can say that's okay, and Hillary can say that that's okay, but that's not okay with me."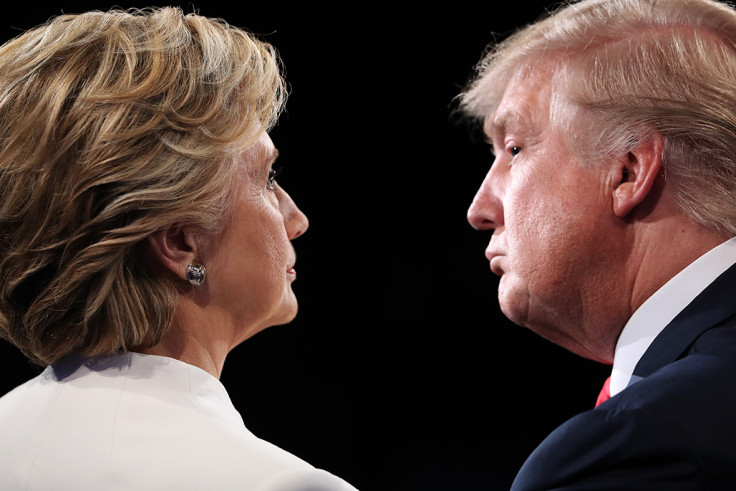 Trump might reject the outcome of the election
The GOP nominee remained cryptic over whether he would accept the results of the race if he were to lose. In recent days, Trump has pushed the idea that the election is rigged against him and pushed his supporters to monitor polling stations and keep vigilant for voter fraud.
Trump told host Chris Wallace he would wait to decide if the outcome was legitimate. "I will tell you at the time, I will keep you in suspense," he said.
Clinton said she found the notion "horrifying" and said she was "appalled" by his position. "Let's be clear about what he is saying and what that means: He is denigrating, he is talking down our democracy and I for one am appalled that someone who is the nominee for one of our two major parties would take that position," she said.
Trump's 'bad hombres'
When discussing his immigration proposals, including the deportation of undocumented immigrants and building a wall on the southern border with Mexico, Trump claimed the US had some immigrants who were "bad hombres". The remark caused Twitter to come alive with jokes regarding "bad ombre" hair jobs. Others criticised Trump's choice of words, especially as he claims to be widely supported by Latino voters.
Sex allegations and respect for women
The two candidates were forced to answer questions regarding sexual assault allegations plaguing both of their campaigns. Trump claimed that Clinton's campaign was behind the recent allegations from at least nine women against him.
Meanwhile, Clinton painfully skirted the question about allegations against her own husband and instead said Trump was disrespectful towards women. In typical Trump fashion, the GOP nominee claimed he has tremendous respect for women and that no one respects women more than he did. However, his so-called respect for women did not extend to his rival.
As Clinton discussed social security towards the end of the debate, Trump leaned into his microphone and called her "such a nasty woman".