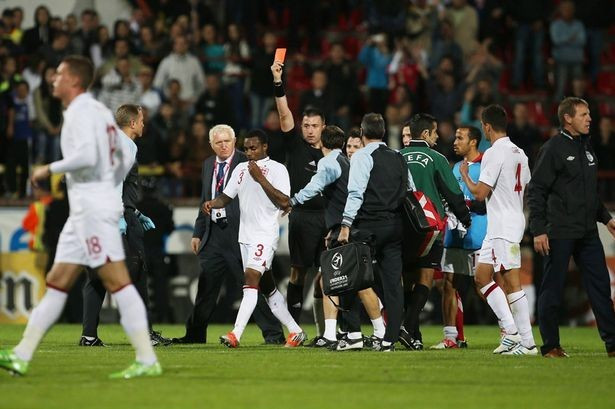 The Serbian FA has denied there was any racism towards England players during their European under-21 clash, adding they believed defender Danny Rose had behaved in an "inappropriate and vulgar manner".
England's 1-0 victory over Serbia and subsequent qualification for the European Championship in Israel next year was overshadowed by scenes of violence between the players and back room staff and allegations the Serbian fans taunted England's black players with monkey chants.
After Connor Wickham's winner in the final moments of the game, defender Rose was sent off for kicking a ball into the crowd after suffering racial abuse from the crowd.
Rose, 22, has called for Serbia to be banned to send a message how racism in the game will not be tolerated. He also revealed how stones were thrown at his head during the game in Kruševac.
But the Serbian FA has denied there was incidents of racism before or during the match, adding the game was "full of respecting fair-play spirit was at the pitch and the stands."
The statement added: "FA of Serbia absolutely refuses and denies that there were any occurrences of racism before and during the match at the stadium in Kruševac.
"Making connection between the seen incident - a fight between members of the two teams - and racism has absolutely no ground and we consider it to be a total malevolence."
They said: "Unfortunately, after the fourth minute of the additional time and the victory goal scored by the guest team, unpleasant scenes were seen at the pitch.
"And while most of the English team players celebrated the score, their player number 3, Danny Rose, behaved in inappropriate, unsportsmanlike and vulgar manner towards the supporters on the stands at the stadium in Kruševac, and for that he was shown a red card."
After the final whistle, a brawl took place between players and backroom staff from both sides, including England's assistant manager Steve Wigley being attacked as he tried to follow the team down the tunnel.
The Serbia FA said: "Ugly scenes were seen. Football Association of Serbia apologises to the guests from England and the overall football community because of the unsportsmanlike behaviour of a part of the technical staff and players of the Serbian U-21 team.
"Furthermore, we will not either accept the fact that our players and members of the technical staff were provoked by the gesture of the English player Rose, since violence has no place at sports events. To be honest, we expect the same investigation from the English FA."
Prime Minister David Cameron said he was "appalled" by what he saw at the game, adding he expects tough sanctions on racism.
Sports minister Hugh Robertson says he has written to Uefa president Michael Platini, appealing for action to be taken against the "disgusting scenes" he witnessed.