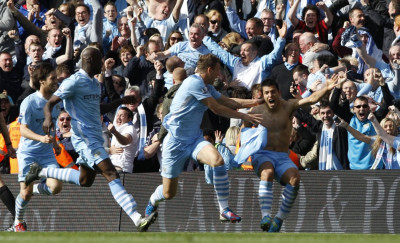 So a summer which began with the most exciting finish to England's football championship in almost a quarter of a century has finally come to a close, with a tennis match which was every bit as titanic, tumultuous and gripping.
Almost exactly four months after Sergio Aguero, a stumpy, madcap Argentine, won the Premier League title for Manchester City in stoppage time of the final game of the season, Andy Murray, a tall, introverted Scot, summoned one last ounce of energy to win the final of the US Open in New York.
In between these very different epics, we've seen triumph and turmoil, glory and despair in all manner of sports, with records and landmarks all round.
Chelsea became the first London club to win the Champions League title when they beat Bayern Munich in their own stadium; cyclist Bradley Wiggins became the first Englishman to win the Tour de France; and Carl Froch became Britain's first triple world champion boxer since 1992.
And, of course, we've experienced unconfined joy during the Olympics and Paralympics, which catapulted British athletes such as Jessica Ennis, Ellie Simmonds, Mo Farah and Sarah Storey to international fame, and confirmed Britain's position as one of the world's foremost sporting nations.
The British Olympic team, performing in front of jubilant home crowds, achieved its best gold medal haul since 1908, finish with 29 golds and 65 podium finishes in all - enough for third place in the overall medal table. The Paralympic team also finished in third place, with 34 goals and 120 medals all told.
Apart from the all-too-predictable under-performance of England's footballers at Euro 2012, the summer has been one long victory parade for Britain's sporting elite. As the first leaves of autumn begin to fall, our country proudly beams down on the rest of the world from its position on the sporting podium.
Here, IBTimes UK takes a quick look back over the events which have brought the public to fever pitch.