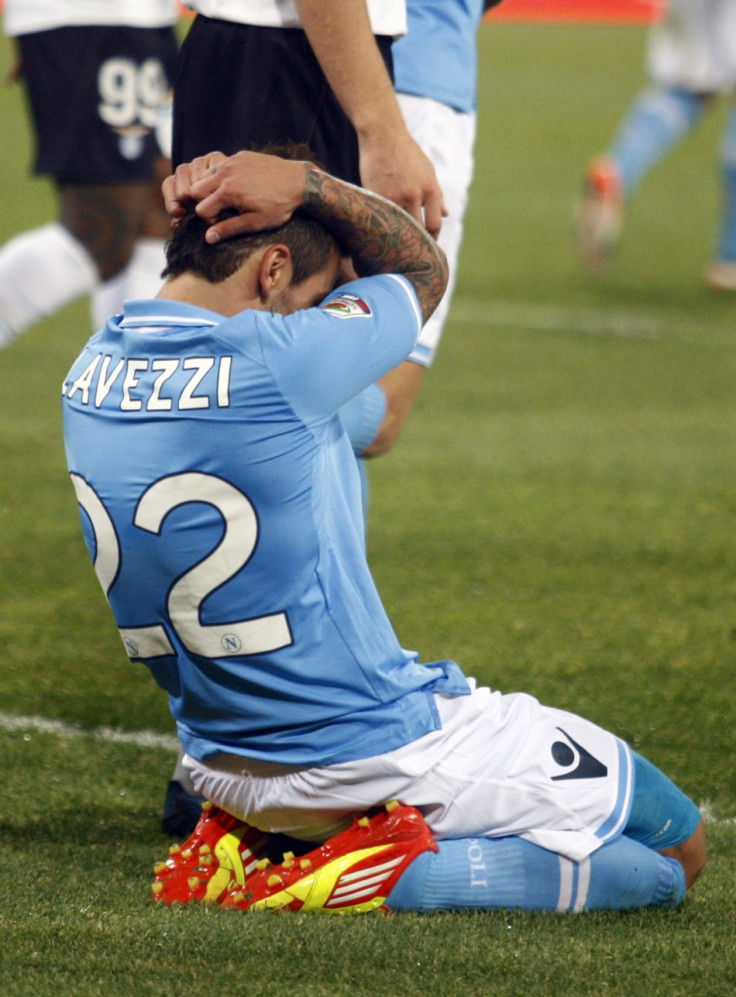 Sergio Aguero has admitted he has urged Napoli forward Ezequiel Lavezzi to join him at Manchester City amid rumoured interest from Roberto Mancini.
Manchester City face the daunting prospect of playing Napoli in Naples this evening, but their Argentine's comments regarding the in demand Lavezzi suggests the pint-sized former Atletico Madrid talisman is unfazed by facing the notoriously partisan crowd at the Stadio San Paolo.
Lavezzi and Aguero are teammates with the Argentinian national side and while he concedes they do not get to speak particularly often, the latter admits he has urged his compatriot to join him at the Etihad Stadium.
Manchester City have been linked with Napoli's Lavezzi, Marek Hamsik and Edinson Cavani, with the Premier League leader's chief scout Carlo Cancellieri openly confirming their admiration for the Serie A trio recently.
The aforementioned Cancellieri told Radio Crc: "I confirm the interest of Manchester City in Hamsik, Lavezzi and Cavani, and I think that this should only please the Napoli fans,
"Napoli are a growing team who do not want to sell their best players. The strength of Napoli is the very soul and compactness of the group.
"Cavani in particular has always been my 'bullet', a player I like a lot. Other than Ibrahimovic, Cavani is the most incisive attacker in Serie A. And his agent knows well Manchester City's appreciation for his client."
Aguero will come up against Lavezzi in Tuesday night's match in Italy, and the Manchester City forward admits he would love to see his international teammate join him at the club follow up their alleged interest.
"We don't get a chance to be together (often) so we will usually speak about other things." Aguero said of Lavezzi in Monday night's post-match press conference.
"Also, it would also be a lack of respect towards our clubs - but mainly I ask him to come to join Manchester City."