When Barcelona arrived at White Hart Lane on Thursday evening to play Tottenham in a NextGen series group game, there was a buzz of anticipation at watching midfielder Sergi Samper.
The 17-year-old is the latest graduate of the famed La Masia academy, and the next off the production line of ball playing midfielders who make the game look shockingly simple.
He is the metronome of the Barcelona NextGen side, not just controlling the tempo when on the ball but effortlessly finding space in which to make himself available for a pass.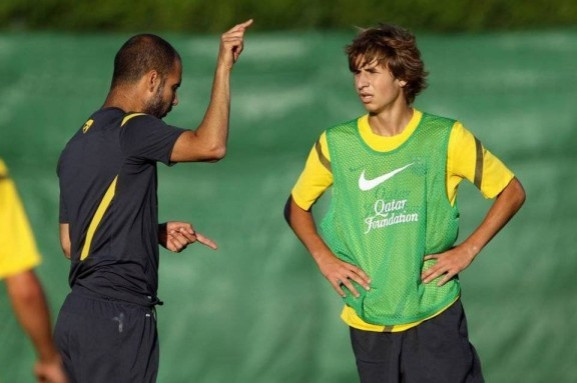 Samper comes from a long and illustrious line of midfielders to graduate from the academy and become legendary figures at the Camp Nou. First it was Pep Guardiola, then Xavi and Andrés Iniesta. Cesc Fabregas followed, while Thiago Alcantara is the man now patiently waiting his opportunity to shine.
Yet despite this rich history, Spanish newspaper El Mundo Deportivo described him as 'el Pirlo de la cantera' - which can be translated as 'the young Pirlo'. They see the teenager as a classic number four, perhaps more patrolling that Fabregas and Iniesta.
"He has an exquisite touch, is cold blooded, has good positioning and a privileged vision of the game. At the moment he only lacks physical and mental maturity," purred Spanish journalist Javier Gascon.
Against Tottenham Samper initially struggled to influence proceedings as he was denied time and pressed by a dogged Spurs midfield. However, as the game progressed, the cultured midfielder grew in to his role and was soon controlling proceedings as the Tiki-taka style began to emerge.
The youngster could well have been playing his football in north London, had he joined his two former team-mates in moving to Arsenal. Last summer the Gunners came calling as they tempted Jon Toral and Hector Bellerin to move to England.
Arsene Wenger was also keen to sign Samper, eight years after persuading Fabregas that he had a better chance of first team football at Arsenal, but the midfielder made the decision to fight his case at Barcelona.
Having remained at the Catalan giants, Samper continues to represent the club at youth level, whilst also excelling for the Spain Under-17 side, for which he has made eight appearances and scored two goals.
"He [Samper] is a very great player. He likes to play with one or two touches and is very clever. Perhaps in one or two years he will play in the second team and perhaps even the first team but it is very difficult as we have many midfielders," explained Pere Gratacós, head of international youth teams at Barcelona, after the Spurs game.
Gratacós explained that like Xavi, Fabregas and Iniesta, Samper arrived at the club as a 13-year-old and quickly excelled. He will now hope that he can emulate the careers of the trio who have combined to win 45 trophies at club level, while each has a World Cup and two European Championships to their name.
Should Samper continue to develop, Barcelona may well have unearthed yet another world class midfielder.