A Japanese boy who was abandoned by his parents in a bear-infested forest as punishment has forgiven them just days after he was found unharmed in a disused military building in Hokkaido, northern Japan. Yamato Tanooka described his father as a "good dad", who publicly apologised for putting his son through the ordeal.
The boy went missing on 28 May after his parents ordered him out of their car as punishment for misbehaving after he threw stones at people and vehicles. Japan has been gripped by Tanooka's story of survival after the seven-year-old child spent six nights all alone before he was rescued by the Ground Self-Defense Force (GSDF) on 3 June.
In an interview with TBS TV broadcast today (6 June), Takayuki Tanooka said: "I said to him: 'Dad made you go though such a hard time. I am sorry.'" The 44-year-old, who was visibly emotional, added: "And then, my son said: 'You are a good dad. I forgive you.'"
His son was quoted by Japanese daily Sankei Shimbun as saying: "I was wrong, because I didn't listen to what my dad was saying."
Takayuki Tanooka and his wife came under a barrage of criticism for their actions. He explained that he grew angry with his son as he had already been in trouble at school for hitting cars with a wooden stick. "So I tried to show him that I can be scary if seriously angry," he said, referring to what he described as a "father's dignity".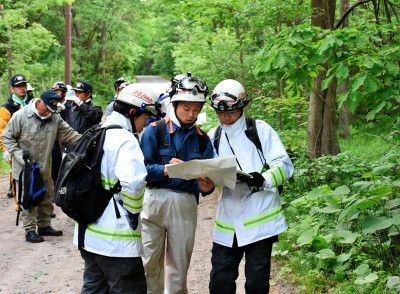 Expressing his regret, Takayuki Tanooka bowed his head and apologised for his "excessive" actions in front of reporters after his son was found. But he and his wife could face the prospect of legal action.
Despite his apparent sincerity, police in Hokkaido believe psychological abuse may have played a part in the child's case according to Japanese national, The Asahi Shimbun. Officers have reportedly written to a child welfare centre in the city of Hakodate "about possible abuse", the newspaper reported.