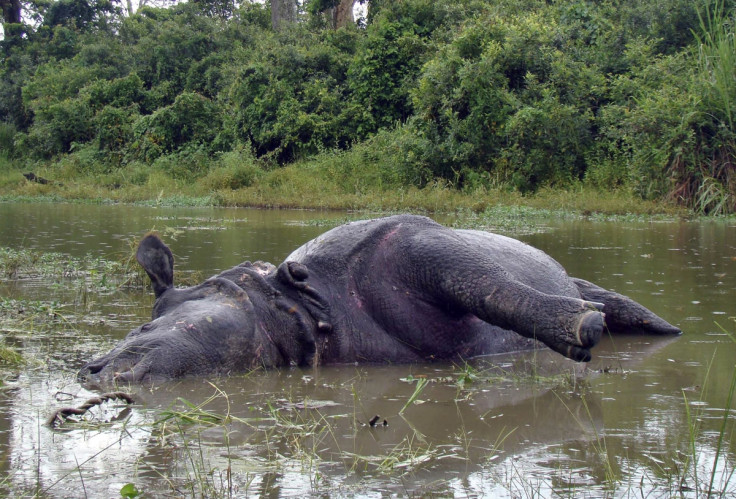 Conservation groups and forest officials are scrambling to save the wildlife in the north-eastern Indian state of Assam as heavy floods have submerged more than 80% of the Kaziranga National Park, a Unesco world heritage site. As many as 17 one-horned rhinos, India's most vulnerable species, have drowned in the flooding so far apart from other animals.
Among the dead rhinos were eight calves while four others died due to old age. The park is home to nearly one-third of the world's one-horned rhinoceros or an estimated 2,400.
Heavy floods are wreaking havoc on Assam affecting as many as two million people in the past few days. More than a million people in nearly two dozen districts have sought shelter in makeshift arrangements.
"The flood-level has receded by one foot since yesterday (1 August) and is much below the danger level now. But about 80% of the park area is still submerged. We have so far recorded the death of 218 animals including 17 rhinos and 166 hog deer, and the figure is likely to go up as the entire floodwater flows out of the park," the park's divisional forest officer Suvashish Das told the Indian Express.
At least nine rhinos have been rescued so far and are being taken care of by forest officials. Authorities are also worried that the floods have forced the rhinos to cross the park's boundary in search of food potentially making them victims of poaching. A single rhino horn is estimated to fetch anywhere between 8-10m Indian rupees (£90,500-£113,000) in the illegal market. Poaching has also been rampant in the region with the presence of heavily armed men.
"A large number of the animals, as you would expect from the trauma they have undergone, are highly stressed. Several of the orphaned rhino calves, in particular, were injured and emaciated, and were initially not responding to our milk formula," said Panjit Basumatary, senior veterinarian at the Wildlife Trust of India, where the animals are sheltered.