Three people have been found guilty of trafficking vulnerable women and running a prostitution network at hotels across England and Wales.
The gang's operation was described by a judge as a "sexual conveyor belt", with one victim revealing how she had sex with as many as 10 men a day.
Police found more than £150,000 was paid into bank accounts over two years, helping the trio fund a life of luxury that included private school fees and exclusive golf club membership.
Hong Chin, 45, ex-partner Li Wei Gao, 44, and his 47-year-old lover Ting Li Lu were all convicted of trafficking and prostitution offences at the Old Bailey on Thursday (5 October).
Chin, originally from Malaysia, ran a pit bull dog breeding kennel on a country estate in Esher, Surrey, where Gao lived in a converted barn with their daughter. He lived with Lu in Walton-on-Thames, Surrey.
In total, Sussex Police identified 19 victims – all from China, Hong Kong and Korea – who were exploited by the trio between 2013 and 2015.
They were sent to perform sexual services in hotels all over southern England and Wales, including Maidstone, Gatwick, Cardiff, Brighton, Eastbourne, Bournemouth, Guildford, Southampton, Woking and Exeter.
Police first became aware of the prostitution network in February 2015 when one of the victims reported being debt-bonded.
Investigators became suspicious and gathered evidence from mobile phones, adult websites and booking records. They eventually made four arrests.
CCTV footage showed the defendants escorting women to various hotels around the country.
One of the victims gave evidence to the court and revealed how she was forced to have sex with up to 10 men a day – with half her earnings then given to her handlers.
Prosecutors said it was "almost impossible for them to escape" the sex worker life they had been forced into.
In his summing up, Judge Philip Katz QC described the operation as a "sexual conveyor belt".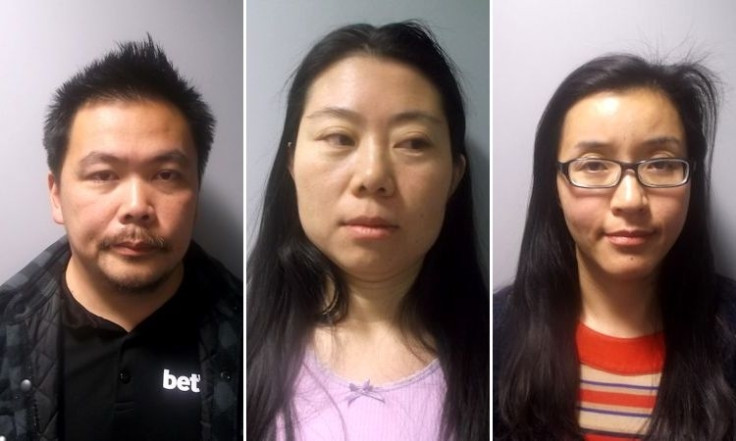 The victims were believed to have been debt-bonded to traffickers in China. Many rejected support offered by the UK authorities and all but one – the woman who gave evidence in court – returned to their home countries.
During the trial, the fourth person charged in connection with the case, Hong Kong national and London taxi driver Wing Yeun, 41, was found not guilty of all charges against him.
The remaining three will be sentenced at a future date yet to be set.
Detective Inspector Andy Richardson, of Sussex Police, said: "This has been a complex and lengthy investigation where vulnerable women were trafficked into the UK for the purposes of prostitution.
"Often the women were moved to different towns around the South East where hotel rooms were booked for them, and then they were told who they would be seeing and what services they had to offer; they had no say in any of this."
Kevin Thomson, from the Crown Prosecution Service, added: "This was an organised operation designed to traffic women into prostitution, as shown by the variety of bank accounts used to run it and the sheer amount of funds it generated. These elements helped to provide compelling evidence of what these defendants were doing.
"The gang exploited vulnerable women, putting them to work in situations which exposed them to serious potential risks. Once the women were caught up in the prostitution ring, it was invariably almost impossible for them to escape the life they had been forced into.
"All the time, they were then earning what turned out to be huge sums of money for the defendants, who were responsible for running the operation without any regard for the women's well-being."