Some of the world's biggest superstars took to the stage of London's 02 arena tonight (5 October) for a Bollywood takeover.
Indian superstar Shah Rukh Khan led an illustrious all star line up for London show of Slam! The Tour, which included Abhishek Bachchan, Deepika Padukone, Sonu Sood, Boman Irani and Vivaan Shah, with the addition of screen idol Madhuri Dixit.
The team have completed an extensive US tour which came to an end with the final show in London.
London will be the biggest and the best concert @bomanirani 'This is the last one' ... don't cry @TheFarahKhan pic.twitter.com/F0wIVdNtEj

— Slam+ The Tour (@SlamLondon) October 5, 2014
Speaking at an earlier press conference the stars expressed their delight at being in the UK to perform for their British fans.
Describing the experience the Happy New Year director Farah Khan said: "The tour has been amazing. I think we slammed every city and I think we saved the best for last."
Shah Rukh Khan who was earlier honoured with a diversity award at the House of Commons said: "It's been really, really nice. It's been long time since any of us have performed. It's been great fun and when you make a film like this and you have a team like this and Madhuri and Malaika who have joined the tour, I think it's a good excuse for us to be there with the whole team and enjoy yourself.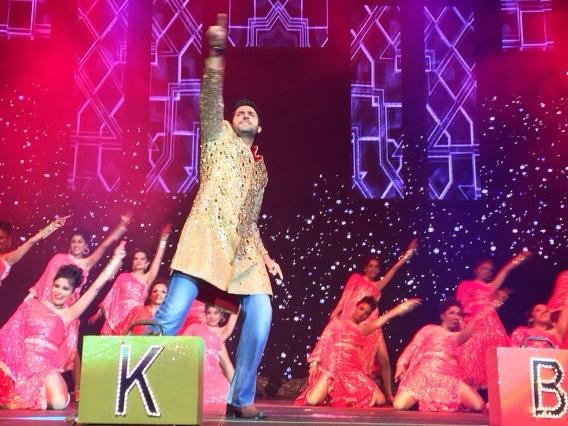 "The film is about dancing so it all seems to fit in. We've been hanging out for the last one year to make this film. It was easy to be with a set of friends now who are like family. And when you do a live show, I think the most important part is how everyone gets along. I think this is one of the finest experiences of filmmaking and Slam! The Tour. Like Farah said, London has always been the most important city for coming and performing live.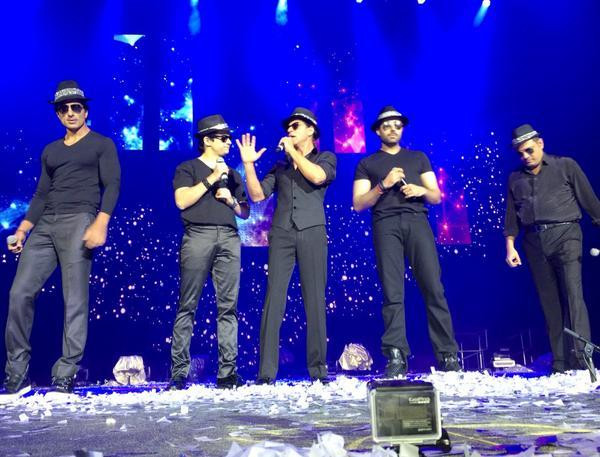 "We don't do this for the money," said Khan. "We do this to make people happy, to entertain them, to make them smile, to say thank you for all the love they give to us."
Abhishek Bachchan who is widely regarded as a thrilling live performer has previously performed at the 02 with his whole family. Speaking about making his return to the world famous arena he said: "The last time I was at the 02 was with family and now I've come with bigger family. It's a lot of fun. We've had a wonderful time. We have a lot of fun on stage. I think everyone's become very comfortable with performing on stage now."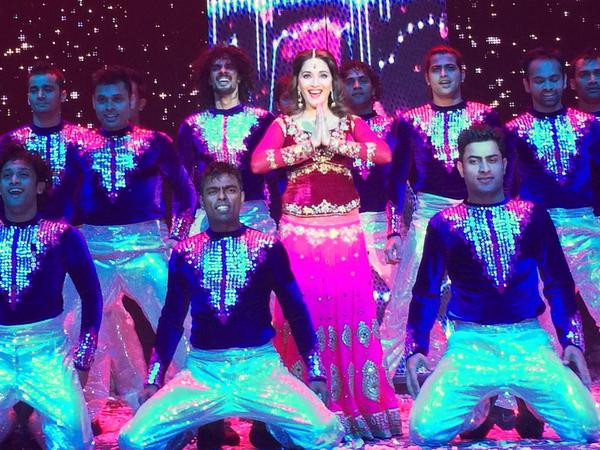 For 24-year-old Vivaan Shah being part of the film and the tour has been a masterclass in performance. "It's been an absolutely life-changing experience and touring with them has taken it to another level and to stand on stage with them - it's electrifying and exhilarating. I don't have words to describe it. It's really the most amazing experience. To be ambassadors of our country is a really big honour."
Action hero Sonu Sood said: "It's been a life changing experience to work with Farah whose the most talented director and I feel really blessed to be part of this."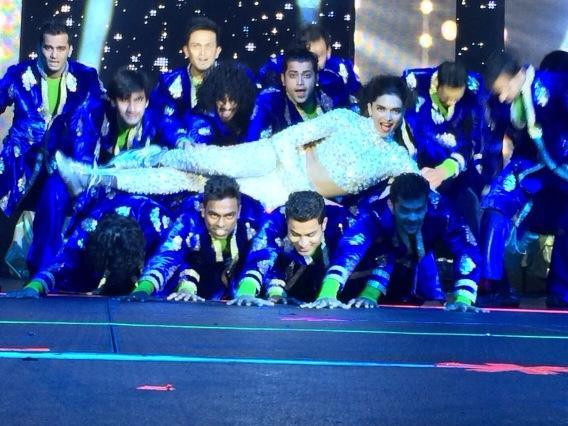 For Boman Irani, who has previously hosted live shows, the tour was presented a chance to take his turn as a stage performer in a live musical show. He explained: "Farah said you're going to be in the show, but you're not just hosting, we're gonna make you dance."
Deepika Padukone reunites with her Om Shanti Om co-star for the third time, and the actress said that they both share the warmest of relationships. "It makes it easier because every time you work with anew actor you have to get to know them and go through the process of understanding how they work, but when you've worked with someone you already know how they work. Shah Rukh is someone I trust a lot if he says something to me I'll never question it."
The stars performed to a packed 02 arena for the sold out show with the hashtag #HNYinLondon trending.
#SlamLondon the BIGGEST AND BEST LIVE SHOW OF 2014 @HNY @iamsrk pic.twitter.com/OCniyLY0uv — ♡♔SRKCHENNAIFC♔♡™ (@SRKCHENNAIFC) October 5, 2014