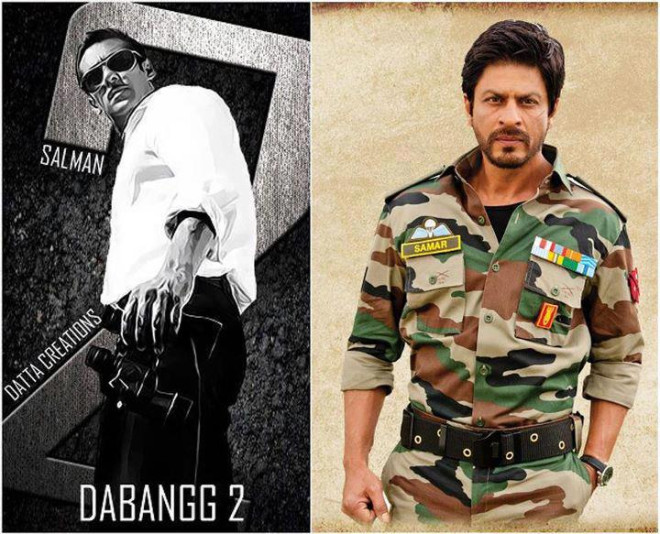 The Shahrukh Khan-Salman Khan rivalry over box-office glory is well known in Bollywood. However, as far as the stars\' income is concerned, it looks like SRK beat Salman Khan hands down.
The Chennai Express star has left Salman Khan way behind to emerge as the top earner among Indian celebs.
In a recently released list of top hundred richest Indian celebs by Forbes India, Shah Rukh Khan has outperformed Salman Khan and other actors of Bollywood, reports Saharasamay.com.
As per Forbes, SRK\'s income grew by nine percent in 2013.
Khan topped the list, grabbing the Numero Uno position by making £22mn through his films and his many endorsements, as on December 31, 2013.
The actor\'s 2013 film, Chennai Express co-starring Deepika Padukone broke all box office records with its glorious run.
Rival star Salman Khan is listed at the third spot on the list, behind Shah Rukh Khan and Indian Cricket Captain MS Dhoni.
According to the list, as of 31 October 2013, the Jai Ho star raked in an estimated £15.7m through films and endorsements.
Amitabh Bachchan who has been a bit selective about films recently, makes it to the fifth position.
Action star Akshay Kumar\'s hard work and persistence seem to have paid off and earned him a slot in the top ten. The actor is listed at the sixth position on the list.
Bollywood\'s alleged couple Ranbir Kapoor and Katrina Kaif are ranked at No. 8th and 9th respectively on the list.
Krrish 3 star Hrithik Roshan is placed at No. 10 on the list.