Pace, thrust and craft; all the attributes that have defined Chelsea's unbeaten start in the Premier League were turned on them by a Shakhtar Donetsk side whose Brazilian contingent, in assisting in enhancing their reputation throughout the continent, helped readdress the balance of power in European football.
Mircea Lucescu's side have an eastern-European engine room, with a spate of Samba flair in attack, and that combination, which had led them to an 100% record domestically, worked to rip the heart out of the reigning European Cup holders.
Coupled with Shakhtar's infectious intensity, Chelsea's lifeless display saw goalkeeper Petr Cech not so much play as the last line of defence, but more like the first and only line.
With evidence that the Czech Republic had been on the wane of late, his performance in Donetsk was a timely reminder that his brilliance can often outstrip that of Chelsea's other old timer, in John Terry and Frank Lampard.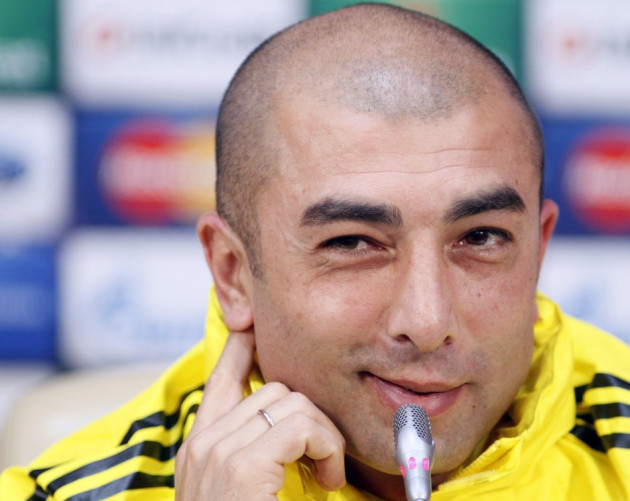 But the 30 year old's showing was the solitary positive for The Blues, who were overrun by the trio of Willian, Luis Adriano and Armenian protégé Henrikh Mkhitaryan, leaving the holders with work to do to reach the knock-out phase, and with reason to be concerned given their Group E performances.
"Shakhtar are a very good side with a good track record at home against English teams in particular, but in general as well, and the early goal helped them," said manager Roberto Di Matteo.
"I was always confident we were going to score a goal and we came out better in the second half and started to control the game a little more, but then they caught us in possession on halfway and then we were chasing two goals and the game becomes very open.
"We need to win our two home games remaining for sure and the consolation tonight is Juventus' draw in Denmark which shows the Champions League is a very competitive competition."
Goals from Alex Teixeira and Fernandinho put the Ukrainian's out of sight before Oscar's late strike, leaving Chelsea three points behind Shakhtar ahead of the crunch meeting at Stamford Bridge in a fortnight's time.
On paper, Chelsea's progression into the last 16 is very much in their hands. Two homes game follow, against Donetsk and Nordjaelland prior to a trip to face Juventus, who have three draws from their group matches; but it's their form in the early stages of their defence which is of concern.
Surrendering a two-goal lead at home to Juventus, an unheard of occurrence during the days of Jose Mourinho and Avram Grant, a scrappy, yet clinical display against minnows Nordjaelland coupled with their display on Tuesday evening has contributed to a nervy campaign thus far.
After abandoning their ultra-defensive guise for the 2012/12 European campaign, Di Matteo is struggling to make Chelsea's offensive make-up stick. The Italian requires a plan b to continue Chelsea's interest in the Champions League.