Hundreds of people with disabilities have been demonstrating on the streets of La Paz, Bolivia, to push for an increase in state benefits. The defiant protesters are asking the government to provide a monthly subsidy rather than an annual one, a demand that has been rejected but talks of dialogues have been suggested.
The protesters are refusing to move from outside the government house until such dialogue has been set up.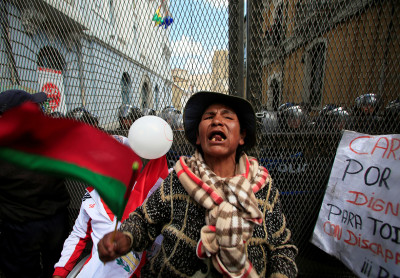 One protester, Rosmery Juanita, who took 35 days to reach the protest in La Paz, tied her wheelchair to a city overpass and garnered police attention.
"We are going to continue with our protests because we are demanding our rights, those for people with disabilities, we have never had our rights respected. And so we are going to maintain the pressure measures until the end. As a Bolivian, I have rights to the bonanza here in Bolivia. I am Bolivian, and so I have a right to ask for what belongs to me as a Bolivian citizen," she told Reuters.
The demonstrations, which began in April and have been continuing ever since, have turned violent, resulting in one protester being injured along with several police officers.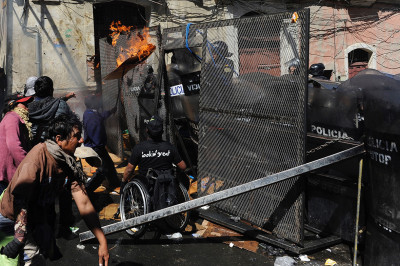 The current Bolivian disability subsidy is 1,000 boliviano (£100/ $144) annual stipend, which they want to change to a 500 boliviano ($72/ £50) monthly benefit. Local media has reported that the government had allocated some 40 million bolivianos for the disabled and the money was divided into two groups – half has been paid out as a monthly allowance and the other was used to fund projects for the disabled.
However, according to protesters, President Evo Morales promised greater assistance to the country's marginalised before taking office and he has not fulfilled his promise.