Catholic devotees took part in processions across Latin America to celebrate the Day of the Holy Cross. The celebrations saw crosses heavily adorned with flowers, fruit and miniature statues depicting religious figures being paraded throughout the towns.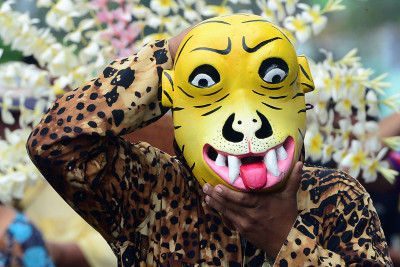 The festivities, which take place every year on 3 May, are rooted in the search for the cross that Jesus was crucified on. However, popular traditions have also connected the festival to pagan traditions that were brought in from Spain.
In El Salvador, Catholic men, women and children offered fruit to the Holy Cross in gratitude for the harvest obtained throughout the year. The holy day is known as Día de la Cruz and marks the beginning of the rainy season.
Known in Guatemala as Fiesta de las Cruces, the festivities see masked performers dance through the streets during the celebrations. Traditionally, construction sites are also adorned with colourful streamers and flowers, to show recognition for the work achieved so far, along with the workers' contributions to the country. In Amatitlan Lake, a procession takes place dedicated to the Holy Child of Atocha.