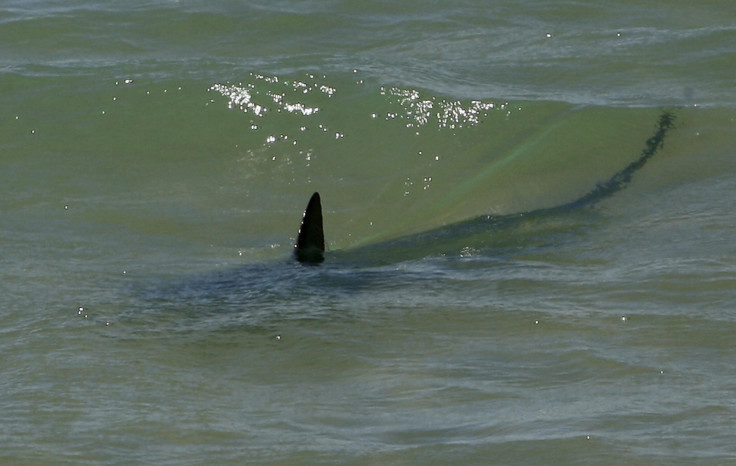 Red flags were raised over a Perpignan beach in the south of France, warning swimmers not to take to the water after sharks were spotted near the shoreline.
On Saturday (18 July), a shark fin was spotted rising from the sea near the Plage du Bocal du Tech near the Spanish border. It was the third time in ten days that a shark sighting was reported off the beach.
"At first I thought it was a swimmer doing the backstroke, then I saw the churn in the water, and fish jumping out of the sea," one beach goer told the France Bleu Roussillon radio station.
Though the sighting has not been confirmed, a lifeguard who approached the animal on his jet ski to ward it off was confident it was a shark, telling local media that it was about three metres long with a prominent dorsal fin.
Beach manager Franck Mignant was confident that, based on his lifeguard's sightings, the animal seen was not a kingfish, whose fin can resemble a shark's.
In July 2014, beaches were closed off the coasts of the south of France, Spain and Corsica after blue sharks were spotted.
Blue sharks are common in the Mediterranean, though they are only rarely spotted close to shore, surviving on a diet of small fish and squid.
Five blue shark attacks have been recorded against humans in recent years, though the pack hunters are believed to have attacked ship and air disaster victims.
It is believed that sharks can be attracted to beaches when following fishing boats that discard fish near the coast.
"If I had a beach full of people I would probably close it. If they follow a fishing boat in they are in the feeding mode, and the last thing you really want them to do is swim around people," Richard Peirce, chairman of the Shark Trust, told The Telegraph after last year's sightings.
Of the 47 varieties of shark found in the Mediterranean, 15 are believed to be potentially dangerous to humans.
Nervous swimmers need not panic though, as only one fatal shark attack has been recorded off the coast of France since 1840.