A beach in Cape Cod has been closed until further notice after a shark bit a surfer's paddle board in shallow water.
The shark bit the surfer's board around 10am Wednesday (23 August) at Marconi Beach in Wellfleet, Massachusetts but did not bite or injure the surfer, the National Park Service (NPS) in Cape Cod said on its Facebook page.
According to the NPS, the incident occurred around 30 yards (25m) off shore in three feet of water, about 50 to 75 yards (45m-65m) south of an area protected by lifeguards.
"Seals were observed swimming nearby," the department noted. "The encounter occurred during high tide and in calm seas."
NPS said it was investigating the incident along with the Massachusetts Division of Marine Fisheries and the Atlantic White Shark Conservancy.
According to CBS News, this is the second shark incident this week at a Cape Cod beach.
On Monday (21 August), a shark attacked a seal just off the shore of another popular beach in Orleans, Massachusetts. Video of the incident shows beachgoers rushing to get out of the water as blood from the injured seal filled the water.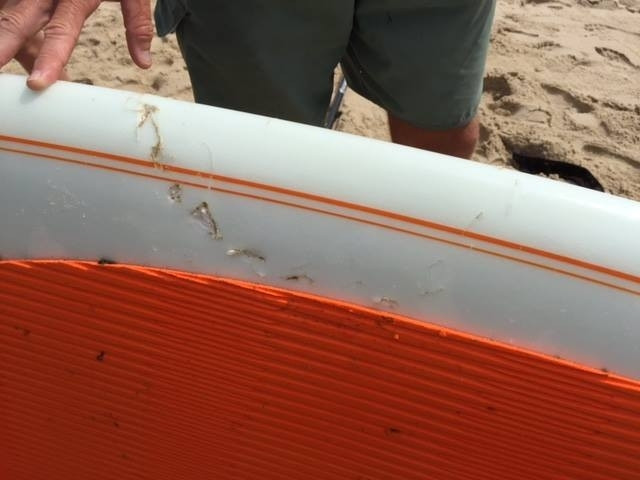 The incident on Monday (21 August) prompted a Barnstable County commissioner to propose a controversial "shark hazard mitigation strategy," the Boston Herald reported. Commissioner Ron Beaty wants to deploy baited drum lines with hooks to catch great white sharks.
Large sharks found hooked and alive would be shot and their bodies discarded at sea, he said. Beaty noted the protocol has been successful in South Africa and Australia.