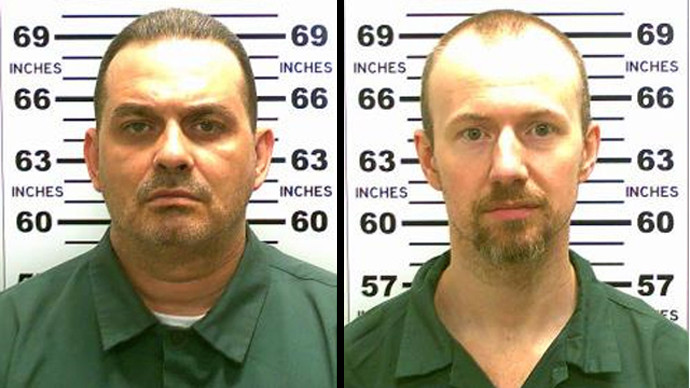 A maximum-security prison guard who reportedly traded art made by two murderers in exchange for the tools they used to escape will be charged on 25 June.
Gene Palmer, 57, was arrested 24 June for allegedly helping David Sweat and Richard Matt escape the Clinton County Correctional Facility in New York state on 6 June.
Palmer faces charges of promoting prison contraband and tampering with physical evidence. Court documents are reported to show that he is accused of burning and burying the paintings Sweat and Matt made for him following the pair's escape.
He is alleged to have hidden a screwdriver and needle-nose pliers in frozen meat given to the two convicts before their breakout, as well as allowing them access to catwalks behind the walls of their cell. He is reported to have given them several sets of tools.
To escape the prison the men cut through through the steel wall at the back of their neighbouring cells, crawled down a catwalk, bore through a brick wall, slid through a steam pipe and managed to remove a locked chain on a manhole cover from a tunnel that took them outside the prison.
The guard maintains he did not know the prisoners intended to escape using the tools and made $25,000 (£16,00) bail, leaving jail early 25 June.
The guard is the second prison employee to be arrested in connection with the escape. On 12 June Joyce Mitchell, 51, an instructor in the tailor shop where the escapees worked, was arrested. She faces felony charges after she was accused of smuggling a hacksaw blade, safety goggles and drill bits to the men.
Pennsylvania police are on a manhunt for the two in the Appalachian Mountains near where they escaped. Law enforcement officials believe the two men are armed.