The police hunt for escaped prisoners Richard Matt and David Sweat has switched back to the vicinity of the prison from which they escaped on 6 June, having previously focused on an area 400 miles to the south.
Over the weekend police and state troopers swamped the hamlet of Friendship near the Pennsylvania border after a woman called Brandy Thompson driving through the area spotted two men answering to their description near a wood.
Hundreds of officers searched the area, hundreds of miles from the Clinton Correctional Facility in Dannemora, from where Sweat and Matt escaped. A building site in Erwin 70 miles east of Friendship was also searched closely. Nothing was found.
Now the police have refocused their search on an area just a few miles from the prison where the two men tunnelled out through steel pipes and brickwork using equipment allegedly supplied by a woman prison worker.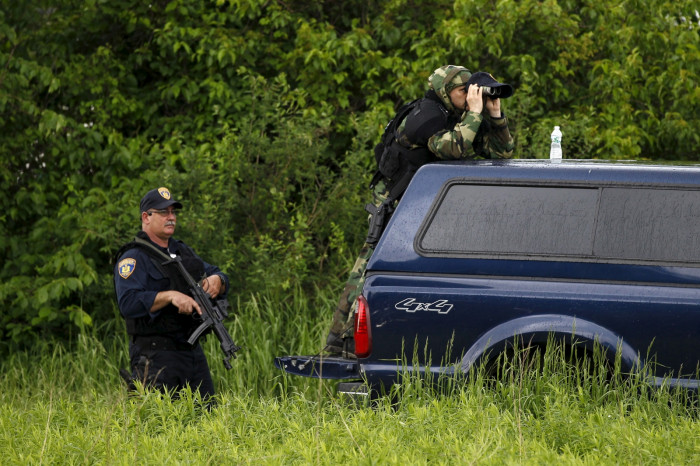 A female industrial training supervisor, 51-year-old Joyce Mitchell, has admitted smuggling in hacksaw blades, drill bits and lights. She had previously been warned about an inappropriate relationship with Sweat and is said to have told investigators that Matt made her feel special. She apparently agreed to being the pair's getaway driver but got cold feet at the last minute.
A law enforcement official told the Buffalo News they now have forensic evidence linking Sweat to a burglary at a house near Owls Head, east of Titusville Mountain State Forest, an hour's drive from Dannemora.
Vermont State Police have confirmed they are sending officers to help their counterparts in New York State in the search for the two men.
Matt was serving 25 years for the torture and murder of a man in 1997. Sweat was serving a life sentence without the possibility of parole for his part in the killing of a sheriff. Both men are said to be extremely dangerous.
A reward for information leading to the capture of the men now stands at $150,000 (£118,000).