Police and state troopers searching for the so-called "Shawshank" escaped prisoners David Sweat and Richard Matt are scouring the hamlet of Friendship in huge numbers after an unconfirmed sighting of the two men walking along train tracks in the area.
Police are fanning out across the heavily-wooded district, 370 miles south of the New York prison the men broke out of, and have ordered residents of Friendship to stay indoors while they investigate the report.
According to the New York Times, a woman was driving in the area on Saturday 20 June when she saw two men emerge from woods near the train tracks. One went back into the woods, the other pulled a hood over his head. One was said to have red hair like David Sweat.
Investigators say they found the report credible. In a release police said: "While this is an unconfirmed sighting, the state police is asking residents who live in this area along the New York-Pennsylvania border to be on alert."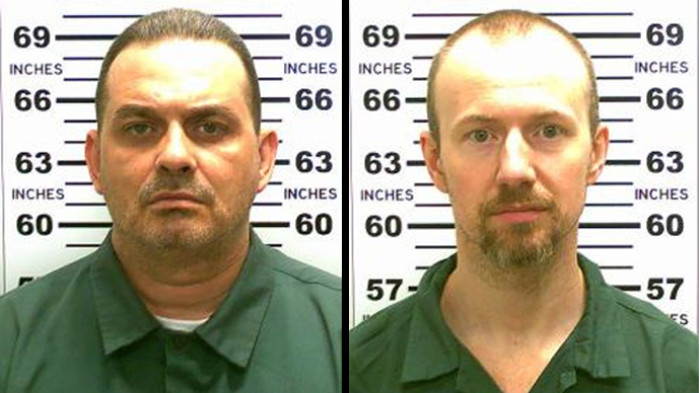 One resident, Ann Anthon, told the New York Daily News: "There are millions of cops – millions of them."
Another search is taking place at a building site in the town of Erwin, Steuben County, 70 miles to the east of Friendship.
Convicted murderer Matt, 49, and Sweat, 34, who was serving life for his role in a sheriff's murder, escaped from the high security Clinton Correctional Facility in Dannemora near the Canada border on 6 June.
The two men, described as highly dangerous, are believed to have had inside help as they tunnelled their way out by cutting through steel and brickwork, leaving a mocking note for prison guards.
Prison worker Joyce Mitchell, 51, has been arrested and charged with helping the two men escape by providing them with hacksaws, chisels and other tools. Investigators say she also agreed to be the pair's getaway driver, but changed her mind at the last minute.
Another correction officer, Gene Palmer, who is said to have had access to the prison tailor shop, is on administrative leave while an investigation into the escape continues. He has not been charged with any crime.