US President Donald Trump slammed a reporter, calling her "very rude" when she shouted out a question during a White House event on Wednesday (26 July). The reporter asked him how the Republican decided to ban transgender people from serving in the US military.
The question came when Trump finished addressing a gathering of American Legion Auxiliary youth at the White House.
"She is very rude", the president told the group of children as he shook his head in apparent disapproval.
Trump made the surprise announcement in a series of Twitter posts, saying transgender individuals will not be allowed to serve in "any capacity" in the US military. The Republican said he had taken the decision after discussing it with his generals.
"The United States government will not accept or allow transgender individuals to serve in any capacity in the US military," Trump had tweeted on 26 July.
"Our military must be focused on decisive and overwhelming victory and cannot be burdened with the tremendous medical costs and disruption that transgender in the military would entail."
He drew widespread criticism from rights group, as well as from lawmakers from both the parties, who lambasted him for discriminating against the transgender community. But he was praised by some Republicans and conservative Americans.
The White House is yet to decide how to implement Trump's ban.
White House spokeswoman Sarah Sanders said the implementation of the policy will be worked out "lawfully", Reuters reported.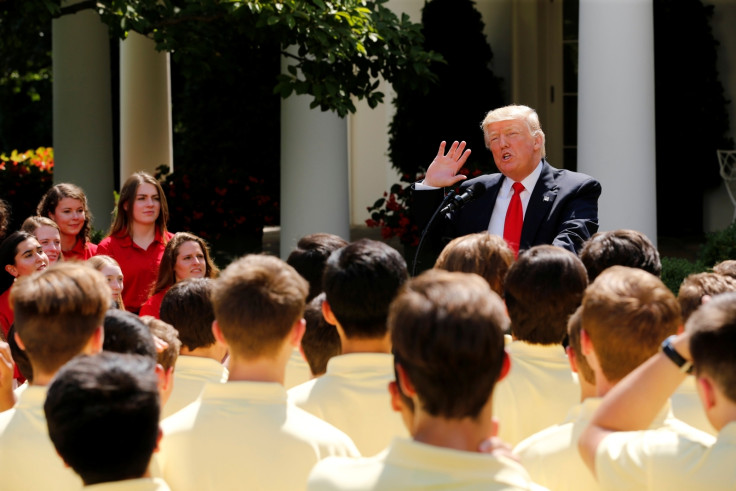 She said the White House will have to work with the Pentagon to decide how to enforce the ban.
"Implementation of the policy is going to be something that the White House and the Department of Defense have to work together to lawfully determine and ... I would imagine the Department of Defense will be the lead on that," Sanders told a news briefing.
However, it is still unclear how this will likely affect transgender individuals who are currently serving the military.
Trump's announcement came as a shock because as a presidential candidate last year, Trump had promised to fight for the lesbian, gay, bisexual and transgender community. He once said during a campaign that he was "much better for the gays" compared to his Democratic rival Hillary Clinton.
This is not the first time Trump has snubbed a reporter who dared to question him about his decisions or announcement.
Earlier this week, he "shushed" a reporter from The Associated Press when she asked him two questions while he was posing for a group photograph with outgoing White House interns.
When reporter Catherine Lucey asked him whether Attorney General Jeff Sessions should resign, Trump shook his head and rolled his eyes. When she fired her second question on healthcare, the president asked Lucey to be "quiet".