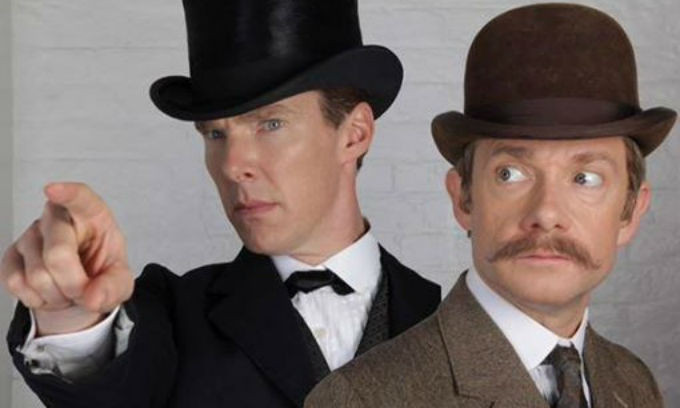 Sherlock producers have been left red faced after eagle-eyed fans noticed a major gaffe in a newly-released promotional poster.
In the image, released to promote the BBC drama's 2015 Christmas special, newly-engaged Benedict Cumberbatch stands behind Martin Freeman. The duo are decked out in Victorian attire for the first time, suggesting that time travel may be part of the new storyline.
However, on closer inspection something is not quite right. Cumberbatch's left arm is missing and his knuckles have been flattened out.
Although it might be a clue that Sherlock will morph into Robocop in the new series, a more plausible explanation is an epic photoshop fail by somebody down in the digital department.
Although the BBC quickly rectified the problem by giving Cumberbatch back his arm and reissuing the image, Sherlock fans couldn't help poking fun at the blunder.
The fourth series of Sherlock will return to screen on early 2016. Co-writer Steve Moffat has told fans to expect "the most shocking and surprising series of Sherlock yet"
"Of course it's far too early to say what's coming but we're reasonably confident that the very next thing to happen to Sherlock and John is the very last thing you'd expect," he previously said.