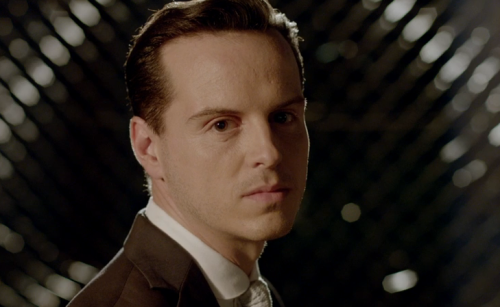 Steven Moffat has talked about the cliffhanger ending of Sherlock's third series.
Following the events of His Last Vow, Andrew Scott's Moriarty reappeared to ask the people of Britain: "Did you miss me?"
The moment has been the subject of feverish speculation among fans of the BBC drama, who have wondered whether Sherlock Holmes' classic adversary is actually alive or whether his apparent return is a ploy by some other character.
"He was definitely dead!" said Moffat. "You can't fake shooting yourself in the face – part of his head came off."
Moffat, who co-created and co-writes the show with Mark Gatiss, also joked that he was "as surprised as anyone" when Moriarty returned.
At the end of the episode he's seen, but in an animated form rather than live video – which is what caused the fan speculation. However a post-credit sequence starring Andrew Scott showed him actually talking.
"That was [decided] in the cutting room," said Moffat. "It was Mark's idea to get one more little blip of him, and we shot the live action shot which we hadn't done for the actual show and put that in after the credits.
"It was just a final little treat, really, to wind people up!"
Earlier this week Moffat spoke about when the show might return for series 4, saying: "If people have to wait two years, they'll have to wait two years."