The Duchess of Cambridge extended her maternal instincts from Prince George and Princess Charlotte to children at a hospice in Norfolk on Tuesday afternoon (24 January).
Kate Middleton, 35, conducted a solo royal engagement on her visit to Quidenham East Anglia Children's Hospice, where she has been a royal patron of since 2012. The organisation helps children with life-threatening conditions while supporting families and is around an hour's drive from Middleton's home with husband Prince William and their two children at Amner Hall.
The royal proved to be a huge hit with her young fans as children lined the street to meet her, bearing gifts. She was presented with a hand-drawn portrait and a note by a youngster named Lily, who said it was an "honour" to meet her. The duchess couldn't contain her delight when receiving the special presents, and appeared to be in her element around the young children.
Another child named Nell Cork presented her with flowers, whose brother Finnbar received care at the centre before dying from an inoperable brain tumour in August last year. The duchess shared a touching moment with Cork as she crouched down and spoke to her before shaking the hand of her elder brother, Alfie, 13, along with her bereaved parents Claire and Tristan.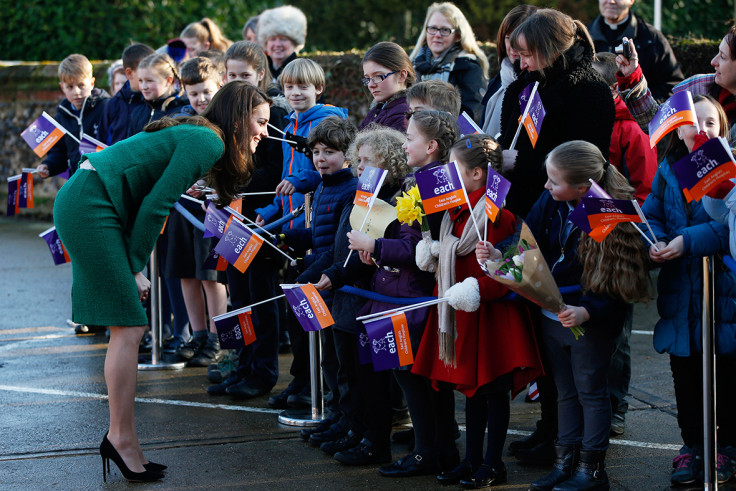 The duchess looked her usual elegant self for the engagement in a serious and sophisticated green skirt suit from Hobbs which she wore with a white blouse from Gerard Darel and some trusty black suede court shoes. She braved the winter chill by going bare-legged and shunned an overcoat for the stylish ensemble, wearing her hair in her usual blow-dried style with a rosy-cheeked make up look.
The children were from three local primary schools and travelled to the hospice to greet the royal, while waving flags in EACH's signature colours of orange and purple. Once inside the centre, Middleton met children with life-threatening conditions and their loved ones.
The hospice's family-friendly approach includes specialist nursing care, symptom management support, well-being activities, therapy and counselling; and all treatments aim to meet the individual needs and demands of the child and their family in question.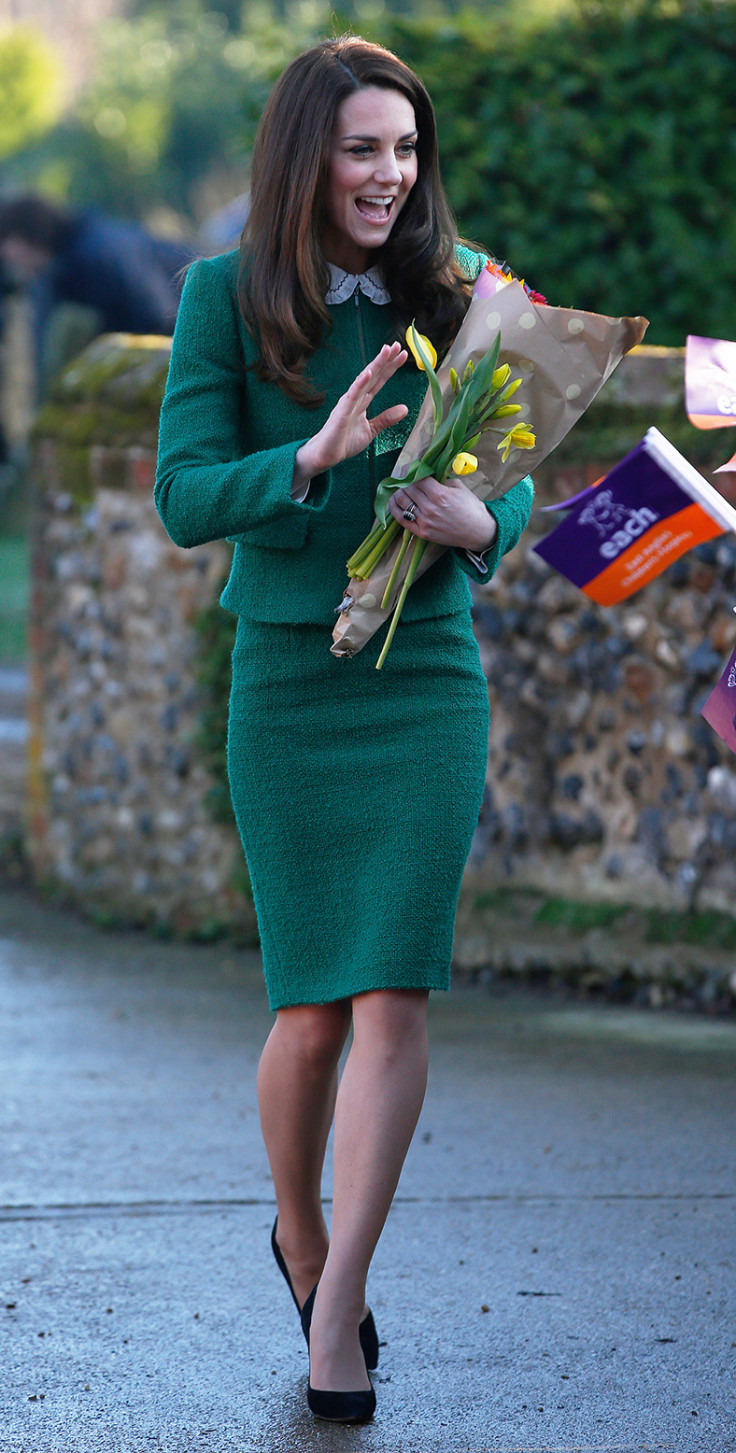 Middleton participated in an art therapy session and used equipment in the sensory room, and in a somewhat comical moment, narrowly avoided being buried under a mountain of tinsel.
Following his meeting with the royal, the father of youngster Nell Cork praised the care and support of EACH through the difficult time of losing their son. He said: "We said to her just over a year ago we had a little boy who was healthy, a five-year-old boy going to school, riding his bike, going swimming.
"And in the space of six months we had to watch him become so disabled and so unwell. People don't think that's going to happen in their lives and (it) doesn't matter if you're a worker, or a businessman or a member of the Royal Family – whoever you are, that can happen."
Middleton has been the royal patron of EACH since 2012 and a strong supporter of the organisation, with her first ever public speaking engagement taking place at the opening of the Treehouse in Ipswich – another children's hospice run by the charity. She admitted to parents and staff on her visit today that her first venture into public speaking was "terrifying."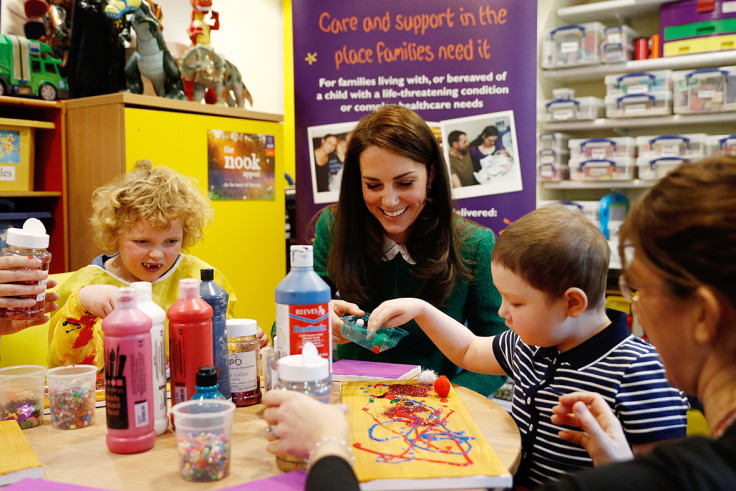 The royal also helped to launch EACH's Nook Appeal in 2014 for a new purpose-built hospice called The Nook. It's approach is to provide more families in need with the same facilities that EACH offers in its hospices in Cambridgeshire, Essex and Suffolk.
Prior to Middleton's visit today, chief executive of EACH Graham Butland said: "We are very much looking forward to greeting Her Royal Highness once again, on what will be her first visit to our site in Quidenham.
"The Duchess will meet our fantastic staff and volunteers at Quidenham who work tirelessly with children and their families needing our services."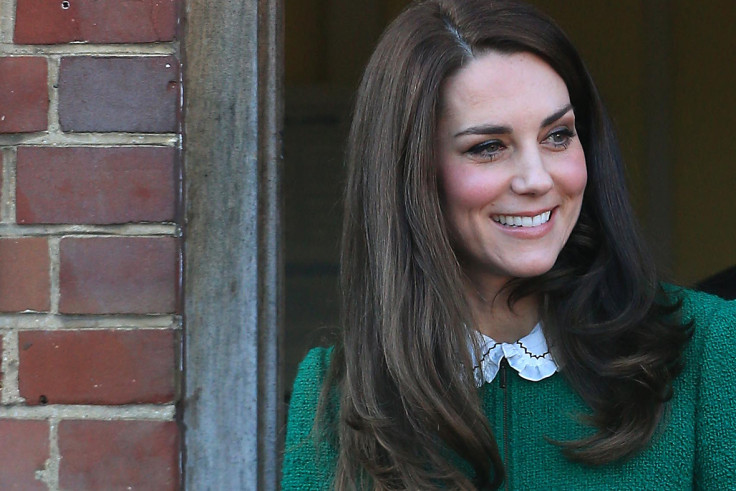 "They'll explain the difficulties they face as Quidenham has outgrown its home, and the huge difference a purpose-built modern hospice will make to the care they can provide to so many families."
He added: "We still have some way to go before the new hospice can be built, though, and we need continued help from individuals, trusts and events, and as much corporate and community support as possible."