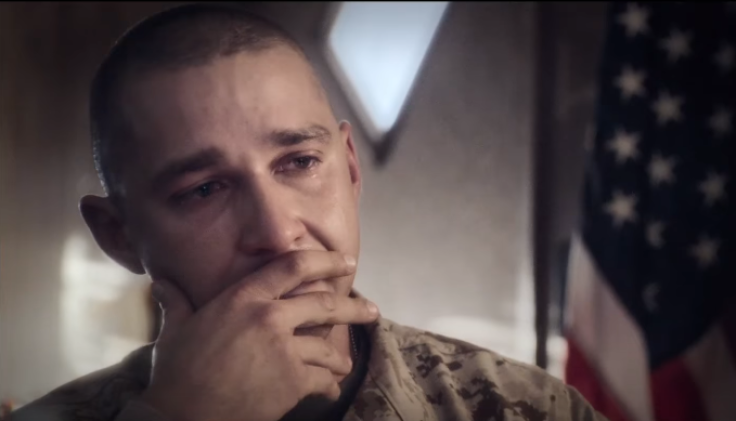 Shia LaBeouf's latest movie, war thriller Man Down, released in the UK over the weekend. According to ComScore, the premiere grossed a total of £7 ($8.70).
This paltry sum means just one person bought a ticket to watch the movie, considering the average price of a cinema ticket is £7.21, according to the UK Cinema Association. The post-apocalypse war movie was screened in only one theatre in the country – the Reel Cinema in Burnley – and was simultaneously made available digitally.
"Poor Shia," said Paul Dergarabedian, senior media analyst at ComScore, according to Variety. "That opening could be in the Guinness World Records or something," he added.
Man Down tells the story of a Marine (LaBeouf) suffering from Post Traumatic Stress Disorder (PTSD) who returns from Afghanistan to find that the US is in ruins. He then heads out in search of his wife (Kate Mara) and son (Charlie Shotwell). Directed by Dito Montiel, who helmed The Son Of No One, the film also stars Jai Courtney and Gary Oldman.
The indie film, which garnered 15% ratings on Rotten Tomatoes, had its official premiere at the 2016 Venice Film Festival and released in the US in December 2016, where it managed to earn $454,490. According to The Guardian, the movie will be available on DVD and Blu-ray next month.
Like LaBeouf, other Hollywood stars have had an equally bad run with some of their offbeat films in the UK. Emma Watson's The Colony reaped £47, while the 2016 debut of Richard Gere's The Benefactor grossed £25.
Watch the trailer for Man Down below: