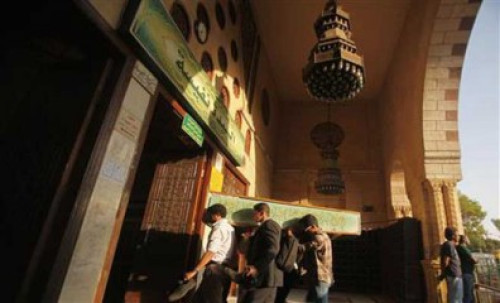 Shia Muslims pilgrims from Canada have been held at the Cairo airport, Egypt and barred from entering the country.
The 61 pilgrims arrived at the Egyptian capital to complete a series of pilgrimage to Shia sites in the country; but Egyptian security authorities had ordered to keep out. Airport security officials did not give any explanation for the ban.
The Department of Foreign Affairs is in contact with the group and is monitoring the situation. Canadians are usually allowed into Egypt with a visa bought upon arrival.
The government of Egypt, which has a majority of Sunni Muslim population, has been strongly criticised for discriminating against the Shia community of the country.
Four Egyptian Shia Muslims were killed in a mob attack in a village near the capital Cairo in June 2013. The victims were accused of trying to spread Shia beliefs.
"This horrific incident in Abu Musallim shows that Shia can't even gather in the privacy of their homes to celebrate and heightens fear of persecution among all religious minorities in Egypt" said Joe Stork, deputy Middle East director at Human Rights Watch.
Human Rights Watch reported that since the 2011 Arab Spring uprising, police have arrested Shia in Cairo and prevented them from celebrating Ashoura, a Shia day of mourning marking the martyrdom of Hussein, grandson of the prophet Mohammed.
The anti-Shia hate speech by Salafis, who consider Shia Muslims heretics, and the Muslim Brotherhood has been going on for two years, Human Rights Watch said. Muslim Brotherhood members and officials at Al-Azhar, Egypt's main centre of Islamic learning and authority, have publicly called for an end to the spread of Shiism in Egypt.
The Egyptian regime has also been accused of committing crimes against humanity, by lawyers seeking an investigation by the International Criminal Court.
"The evidence suggests that Egypt's military regime has carried out crimes against humanity on a horrendous scale, including murder, persecution, torture and enforced disappearances," said Tayab Ali of ITN solicitors in London.
Since former president Morsi was ousted last July and replaced by a military regime, the country has plunged into violence which has caused the death of at least 1,120 civilians.