A car ferry carrying more than 2,400 Syrian refugees has arrived at the port of Piraeus near Athens. The ship was chartered by the Greek government to ease conditions on islands in the eastern Aegean, which have seen an influx of migrants arriving on inflatable dinghies and small boats from nearby Turkey.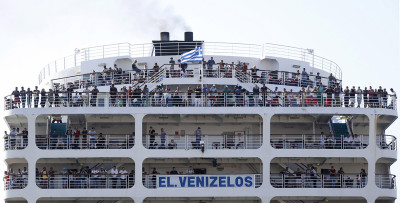 The ship, the Eleftherios Venizelos, departed Kos on 19 August and stopped at the islands of Leros, Kalymnos and Lesbos to pick up more Syrians on the voyage to the mainland. Thousands of other migrants from Asia, Africa and elsewhere in the Middle East are sleeping in abandoned buildings or in the open on some Greek islands, particularly Kos.
Syrians received priority in boarding the ferry as they are regarded as refugees from their country's four-year-old civil war. Arrivals from other countries such as Iran, Afghanistan and Pakistan, regarded as economic migrants, are camping out in filthy conditions, leading to sporadic clashes and brawls.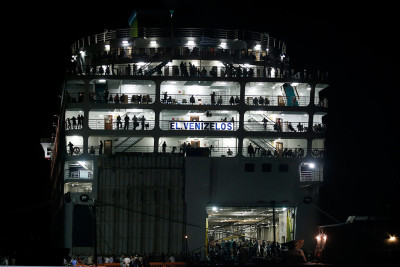 Apart from buses on hand to take the refugees from the port to the Piraeus metro station, nobody appeared to be available to offer guidance on where to go. Greek officials had initially said the ship would head to Thessaloniki (near the border with Macedonia), but then the vessel abruptly changed course for Piraeus. It was unclear why, but any plan to dump refugees close to another country's border could have left Greece open to criticism that it was effectively shifting the problem on to its neighbours.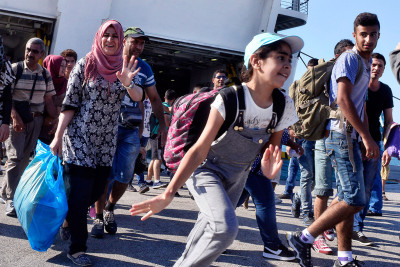 Many of the Syrians said they had no intention of staying in Greece, but plan to head almost immediately to the country's northern border via the second city of Thessaloniki, hoping to cross into Macedonia and then on to other European countries.
"First they told us the ship would go Thessaloniki, then Athens," said Darek Khouja, 18, from Aleppo. "I want to go to Germany. It has very good universities and I want to continue my studies, get on with my life." He and his friend Kamel Farezu, 20, both engineering students, travelled together from Syria to Greece via Turkey. "The situation in Aleppo is terrible, we had to leave," Khouja said. Both left their parents and family behind.
Greek authorities recently opened a new reception centre in Athens, moving migrants away from squalid conditions in a park. But the centre has a capacity of only 720 people, and it was unclear how and where the new influx of more than 2,000 refugees would be accommodated.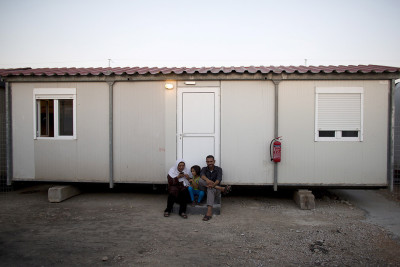 The number of arrivals in Greece last week was equal to almost half the number for the whole of 2014 and brings the total for this year to 160,000.