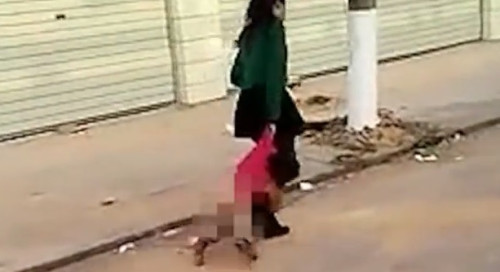 Horrifying footage has emerged of a mother beating and dragging her infant daughter across concrete pavement like a rag doll.
The clip shows the unidentified woman from Dongguan in the southern Chinese province of Guangdong talking on her mobile while hitting the shrieking child in the street.
The two-minute distressing video, which starts with the defenceless child already on the ground, has infuriated viewers.
According to local press, when police arrived on the scene attempting to calm the situation the irate mother claimed that she was simply trying to discipline the child.
One officer can be seen telling the woman "This is not the way. You should see how others are doing it."
The clip, which has gone viral since it first emerged on the internet, has stirred up a huge response from the online community.
One outraged viewer wrote: "She's a failure as a mother and does not deserve to have any kids!"
Another said: "she needs her ass beat, and her child taking away from her..damn shame"
Many Chinese citizens have complained that the mother should have been arrested for her actions.