The Russian military said it has dealt a devastating blow to the Islamic State (Isis) after fighter jets delivered a "maximum payload" carpet bombing, reportedly killing 150 jihadists, in a second day of airstrikes.
The Russian Ministry of Defence said state-of-the-art Sukhoi Su-34 tactical bombers left their base in Hamdan, Iran, to target Isis (Daesh) buildings in the IS-controlled city of Deir-ez-Zor which borders with Iraq. They were said to have been supported by Su-35s fighter jets which took off from Russia's Khmeimim Airbase in Syria.
Both Iran and Russia are supporting Bashar al-Assad's attempt to regain control of his embattled country. Russia has been criticised for destroying civilian and opposition targets in the north of the country rather than concentrate its might on IS targets elsewhere.
The Russian MoD say they took out two command posts and two terrorist training camps in the strike on Wednesday 17 August for the second day in a row. Russian's Ministry of Defence said: "The planes carried the maximum payload of high explosive fragmentation bombs OFAB-500," reports the Mirror.
"As a result of the strike two command centres and large field training camps of the Islamic State near Deir ez-Zor were destroyed. More than 150 militants, including foreign mercenaries were killed."
The UK has also been targeting IS targets in Iraq and Syria. In June, an IS truck bomb factory was razed by RAF fighter jets. Two Tornado GR4s dropped 1,000lb enhanced Paveway bombs on the terrorists.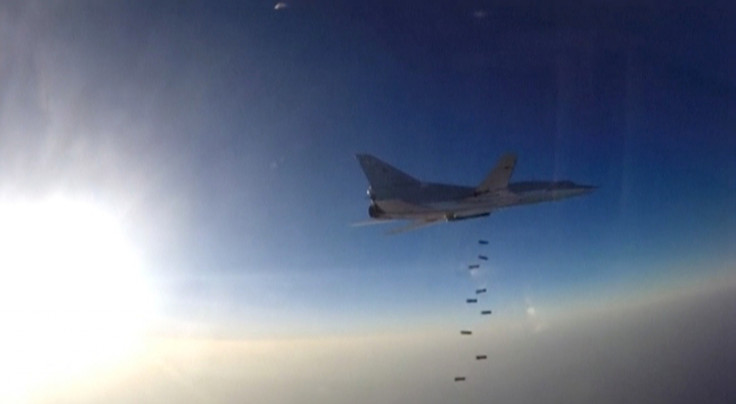 An alliance between Moscow and Tehran is not popular with everyone in the west and Washington is reportedly considering the legality of the alliance.
Mark Toner, a state department spokesman said Washington said: "It could very well be a violation of UN Security Council resolution 2231, which prohibits the supply, sale or transfer of combat aircraft to Iran unless approved in advance by the UN Security Council."
But Alaeddin Boroujerdi, the head of the Iranian parliament's Committee for Foreign Policy and National Security, said the Russian military aircraft only use the Hamadan air base for refuelling.
"The flights of the Russian military jets are conducted in accordance with the decision of the Supreme Council in the framework of the quadruple cooperation between Iran, Russia, Iraq and Syria," Boroujerdi added, according to the RT.