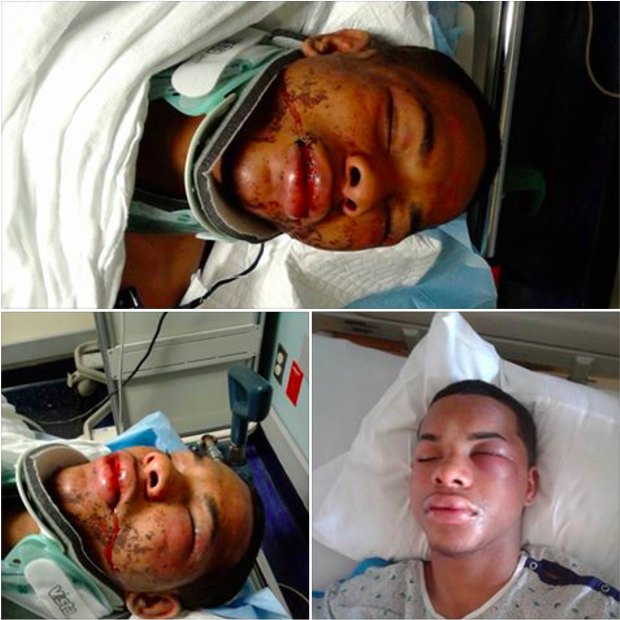 The father of a 16-year-old boy claims police in New Jersey "savagely" beat his son following a car crash on 31 May. Monte Stewart posted photos of his son's brutal injuries on Facebook, prompting an investigation into the accused officer's actions.
"I've never been so heartbroken in my life, looking at my son's face... this is how Carteret Police are treating our kids... they beat my son... badly," Stewart wrote on Facebook.
The post included three photos of his son's badly battered face. His son, also named Monte, is seen in a hospital bed with severely swollen eyes, a neck brace and bloody lips.
Stewart told NJ Advance Media that the incident occurred in the early hours of 31 May and involved Officer Joseph Reiman. The family's claim was later corroborated by an eyewitness.
Carteret Mayor Daniel Reiman, the officer's brother, did not comment on the allegations but said in a statement that officers are "made a scapegoat and presumed guilty before an independent investigation is started or completed."
The mayor asked the county prosecutor's office to release a full account of the incident, including statements, police reports and any audio and video recordings, NJ Advance Media reported. He added that the Middlesex County Prosecutor's Office was leading the investigation.
"Comments and innuendos on social media are not facts and the borough awaits the results of this review by the prosecutor's office," the mayor said.
According to the teen, he panicked when Reiman turned on his lights. The teen claimed he accidentally hit the gas instead of the brake, lost control of the car and crashed. He said he did not suffer any injuries from the crash, despite not wearing a seatbelt.
Medical records and a report by emergency medical personnel claimed the boy ran after the crash. However, the teen and other eyewitnesses disputed that account, NJ Advance Media reported. Three neighbourhood residents said the boy was on the ground less than 3ft from the vehicle.
The teen alleged he got out of the car with his hands in the air and stood still. He said the officer then grabbed his left arm and punched him in the right eye. After he fell, the teen claimed Reiman kneeled on him and proceeded to punch him more than 12 times.
As Reiman was handcuffing him, a second officer allegedly kicked him in the face as he yelled for help, the boy said. He was helped to a patrol car and read his rights by a third officer.
"I thought he was going to beat him to death," eyewitness Richard Watkins said.
There have been no administrative or criminal charges filed against any of the officers involved. Captain Michael Dammann, a spokesman for the police department, told reporters Wednesday (7 June) that Reiman had been placed on restricted duty but that the other responding officers remained on active duty.