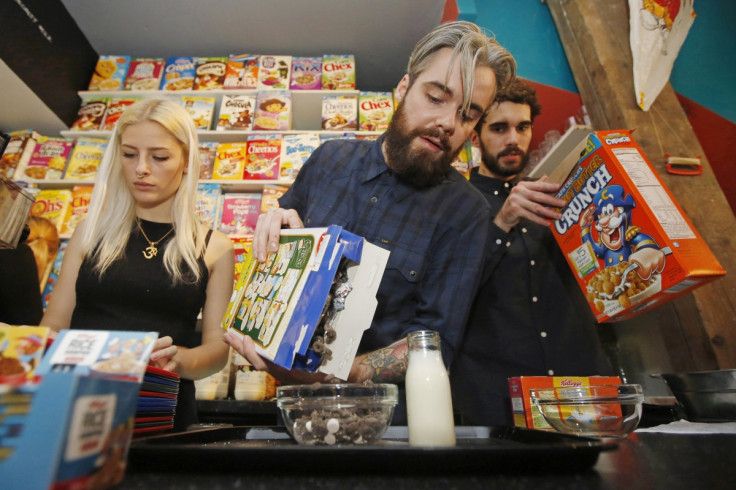 The controversial Cereal Killer Café in the London's hipster homeland, Shoreditch, was the target of anti-gentrification protesters last night (26 September). The mob, who were carrying pigs' heads, broke windows and daubed the word "scum" on the premise's window.
The café, which charges £3.20 for a bowl of cereal and is located in one of east London's deprived areas, is seen by many a symbol of the widening gap between rich and poor in the London. The attack was led by the anarchist group Class War.
Speaking to the London Evening Standard, Cereal Killer Café co-founder Alan Keery said there were children at the café and the staff were "absolutely terrified". He described being threatened by an angry mob that had torches, had been throwing paint and had brought cereal with them to throw at the shop.
Keery told the newspaper he and his brother were being targeted as the "poster boys" of gentrification, even though their shops are independent. He said that customers had helped barricade the door when the mob tried to gain entry to the premises and described the attack as a "witch-hunt".
@ehdannyboy wrote on Twitter: "I don't know why anyone would attack the Cereal Killer Cafe. I think they're grrreat."
The protest was promoted on Facebook as the third "F**k Parade", organised by Class War. During the parade, the crowd also burnt an effigy of a "hipster pig" on Old Street.
The page stated: "Our communities are being ripped apart – by Russian oligarchs, Saudi Sheiks, Israeli scumbag property developers, Texan oil-money t**ts and our own home-grown Eton toffs. Local authorities are coining it in, in a short-sighted race for cash by 'regenerating' social housing. We don't want luxury flats that no one can afford, we want genuinely affordable housing. We don't want pop-up gin bars or brioche buns – we want community."
However, political commentator and satirist Karl Sharro questioned the working class politics of Class War, and took to Twitter: "The two wings of the hipster politics movement attacking each other in Shoreditch. This is hilarious. #CerealKiller."
The Cereal Killer Café was opened by Belfast twins Alan and Gary Keery in December 2014, and expanded to include a second venue in Camden's Stables Market. The original two-storey café is situated on Brick Lane in what used to be an old video shop and employs eight staff.
On its website, Cereal Killer Café describes itself as "the UKs first speciality cereal café" that sells more than 120 kinds of cereal from around the world. It also claims to provide "30 different varieties of milk and 20 different toppings".
The Cereal Killer Café hit back on its Twitter account this morning and said: "Unhappy with the state of the country? Why not attack a small business #smart
The Twitter account later said: "Open as normal today guys, come down to see our new shopfront #makeover"