In a seemingly perverse twist, thousands of migrants who manage safely to reach Italy after a perilous journey across the Mediterranean Sea are exploited and abused by their keepers at Europe's largest migrant holding camp, an IBTimes UK investigation has found.
Testimonies gathered outside the Cara Mineo holding camp located about 50km from Catania, tell stories of overcrowded sleeping quarters, scarce food supplies, bullying, intimidation, withheld daily allowances, absence of health checks and frustration over the lengthy asylum process. More than 3,200 migrants from Eritrea, Sudan, Nigeria, Gambia, Liberia, Afghanistan, Syria, Pakistan and elsewhere live in the centre, well above its capacity of 2,000.
The migrants at the centre are stuck in bureaucratic limbo as they wait for their asylum applications to be processed, which takes anywhere between 12 and 18 months. Italy has spent about €2bn (£1.4 bn, $2.2 bn) in the past four years to provide reception centres for the migrants, with €700m set aside for this year. In April alone, more than 15,000 have arrived on Italy's shores.
A former residential complex for US military personnel stationed at the nearby Sigonella base, Mineo lies in the middle of rural Sicily, amid acres of orange and lemon groves at the end of a long and winding country road. It resembles a surreal US town of the 1960s, dotted with detached houses on square plots divided by footpaths. Though unlike most American towns, it is also surrounded by a 12-foot high wire fence.
Frustrated communities of migrants are stranded there with no point of contact with the outside world beyond the armed soldiers at the entrance and the laid-back operators of the consortium of cooperatives that run the centre.
"The future here seems unsettling – you become scared of your dreams," Walter Ojeme, a bright 30-year-old from Nigeria, told IBTimes UK. "Three more years doing nothing one could go crazy, become mentally unstable. Sometimes you see people fighting here – it's because of the harsh conditions."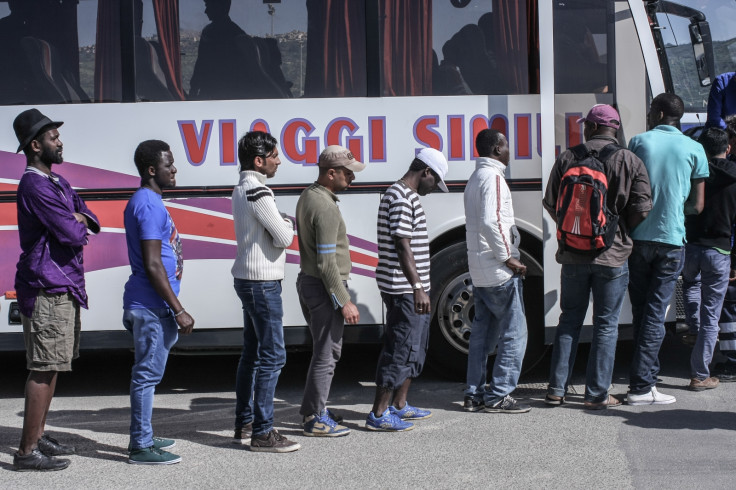 Riots and blackmail
It is not a coincidence that in 2014 alone, 11 riots broke out at the centre, according to Alfonso Di Stefano, an activist with the anti-racist association in Catania. Di Stefano, who organises monthly protests against the cooperatives that manage Mineo, recalls when the migrants set fire to the Red Cross tent after someone was allegedly called "black monkey" by Red Cross members.
A Beckett-like surreal atmosphere hovers over the camp. Those of a restless disposition pace up and down the paved centre roads or, just beyond the checkpoint, the dusty country roads. Staring at their feet with a dull gaze and deadened expressions, they answer questions in monosyllables. Those who are more pro-active, jog or play pick-up basketball games to break up the desperately boring routine.
The average waiting time for a response from the asylum commission stands at 18 months. That's 547 long days broken up by just as many often sleepless nights. The commission is based in Catania not Mineo, further complicating the process. The majority of applications are rejected by the commission, but the migrants can appeal within 15 days. Usually, these receive a positive outcome, but the ruling can take a further six months.
Di Stefano, who accuses the commission of steering clear of the centre for fears of riots, calls Mineo "the biggest segregation camp in Europe" and explains that Italian authorities have imposed a regime of fear and intimidation "akin to that used in the Nazi concentration camp" with kapos, or privileged insiders, heading each community of migrants, controlling every aspect of their lives.
"If they try to complain or make their case in another way, they are blackmailed by the kapos, who threaten to report them to authorities who could put in a bad word against them to the commission," Di Stefano says.
'This place is nothing'
That sentiment is echoed by many of the migrants interviewed by IBTimes UK. They expressed feelings of frustration, loneliness and fear of receiving a negative comment that would adversely affect their applications if they dare to complain.
"We sleep in overcrowded rooms, with up to six, eight people in a small room with no ventilation," said Ojeme. "Medically, you're not attended to. I've been complaining about chest pain and they just give me paracetamol."
Others lament the poor quality of the food, which they claim is the same day in, day out for months at a time. "Try to eat only rice and pasta without sauce for one, two years. People have a big stomach here because they only eat carbs. It's not a balanced diet," Ojeme said.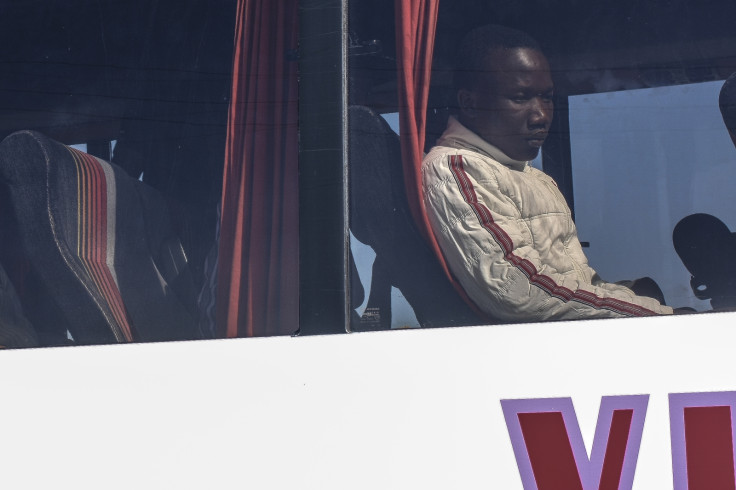 A pair of young Nigerian migrants, who did not want to reveal their names for fear of repercussions, said Mineo was "a big problem that can't be solved".
"This place is nothing, 'niente' as Italians say," one said. "When I was in Africa I knew I was suffering. I thought that by leaving my country and getting to Italy the suffering will end. But now I'm suffering more."
Mineo, which was opened to cope with the huge influx of migrants arriving in Italy, has allegedly become a lucrative business for its administrators. The Italian interior ministry pays the consortiums running it and others like it as much as €35 per adult per day for accommodation, meals, clothing, health and legal assistance. That makes up to €112,000 a month for Mineo alone.
Di Stefano and the migrants interviewed by IBTimes UK accuse the organizers of skimping upon services the consortium was contracted to provide. Poor organisation and the endless stream of arriving migrants have turned an emergency situation into a profitable business for many cooperatives, which take advantage for their own gains, claim the migrants.
A lucrative business
A typical grievance involves cigarettes. Several migrants said that the cooperatives running the centre swap the stipulated daily allowance of €2.50, which should be used to buy SIM cards, for a cigarette. Even children are exposed to this ruse.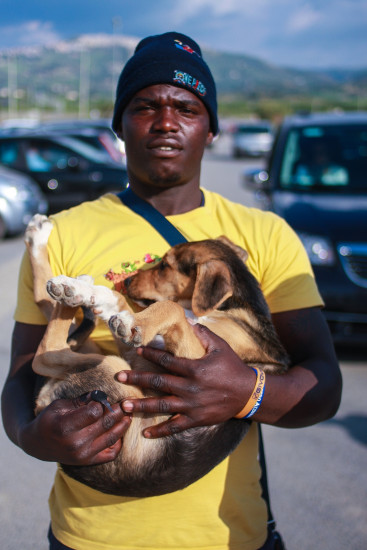 "I don't smoke so I don't know what to do with cigarettes," says 28-year-old Mamadou, from Senegal. "People who work here, they're worse than the mafia. I regret coming here with the life conditions that I have now, but I didn't have any choice."
Some migrants pool the cigarettes and sell them to buy food to supplement the deficient meals provided by the centres. The Eritreans, in particular, exchange cigarettes for onions and tomatoes at the neighbouring farm. Others are forced to wear the same clothes they wore when they arrived in Italy.
Sebastiano Maccarrone, director of the Mineo centre, denied all the accusations made to to IBTimes UK and blamed the unrest on the lengthy waiting times for securing asylum in Italy.
"Mineo is a respectable centre," he said. "The migrants don't need money, we provide them with everything they need to live in the camp. The constant presence of police guarantees that law and order is respected.
"People are frustrated because they have to wait at least 12 months to get a response," he said.
Maccarrone also replied to reports that local "caporale" - a criminal thug who is tasked with illegally hiring migrants for menial jobs in the orange fields - picks up Mineo migrants in the early morning. "Outside the centre, I can't exclude that they're engaging in illegal activities," he said.
Even the Italian government recognises that Mineo has become a problem. "The centre is a cancer, it needs to be shut down," prefect Mario Morcone told Internazionale magazine.
Mafia Capitale
Last year, Italian investigators uncovered a vast corruption ring in Rome - dubbed "Mafia Capitale" and arrested Salvatore Buzzi, president of the Eriches cooperative consortium that handles reception centres around the capital.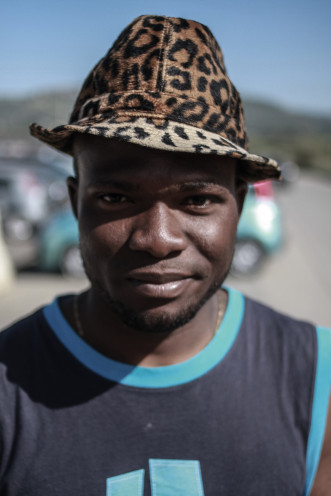 Buzzi was accused of bribing an official to win contracts to house and care for migrants and also failing to provide basic assistance.
In a wiretap recording that was published by Italian media, Buzzi is heard saying: "Do you have any idea how much we earn off migrants? Drugs are less profitable."
The entrepreneur has denied any wrongdoing but prosecutors have opened investigations into other Italian centres after allegations of kickbacks for contracts and nepotism by local politicians in assigning jobs.
According to local media reports, about 11 people, including the Mineo consortium, are involved in a new investigation into last year's kickbacks for the €100m contract to manage services at Mineo.
As the investigation closes in, asylum-seekers remain guardedly hopeful for the future while reigning in the routine dreaming about what lies ahead.
"If I can get the permit I'd like to do a masters in international law in Hamburg to work in an international organisation," Ojeme said.
"Optimism gives me hope for tomorrow."