A baby girl born after her mother went into labour while being rescued from a boat in the Mediterranean has been named Francesca Marina as a tribute to the Italian Navy (Marina Militare). Crew from the Italian navy ship Bettica found the Nigerian woman in labour on a boat – one of 34 vessels intercepted over the weekend. This photo released by the Italian navy shows the baby girl sleeping in a makeshift cradle decorated with a pink bow.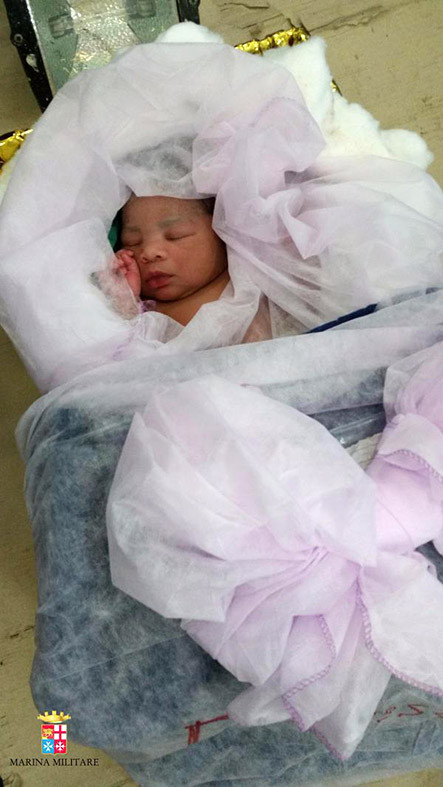 Not all of this weekend's rescued had such happy endings. Ten bodies were found on Sunday (3 May) on boats or in the sea.
Around 7,000 migrants were rescued from overcrowded boats crossing the Mediterranean to Europe over the weekend and on Monday. The survivors were rescued on the seas north of Libya from overcrowded rubber dinghies and unseaworthy fishing boats sent out by people smugglers who make an average of €80,000 (£58,697, $90,000) from each boatload.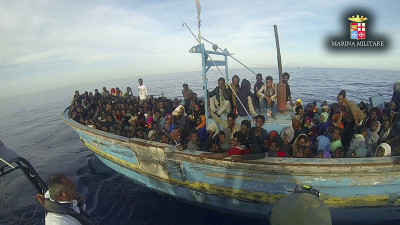 Numbers risking the journey in search of a better life have continued to rise two weeks after as many as 900 people drowned in the worst Mediterranean shipwreck in living memory.
Calm seas and mild temperatures are fuelling the spike in human trafficking — just like they did last month when nearly 6,000 migrants were rescued during a few days of good weather. Italy has not yet released the total number of migrant arrivals in April, but the relentless stream of migrants this year is on track to surpass the 170,000 rescued at sea by Italy in 2014.
About 1,800 people are estimated to have perished during the crossing already this year, the UN refugee agency said.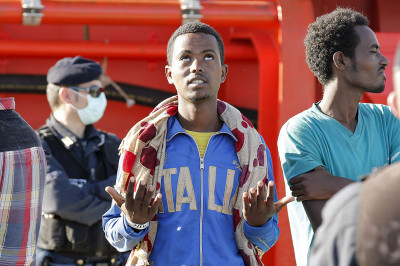 Libyan state news agency Lana said authorities detained 500 migrants in five boats off Tripoli and a further 480 migrants – from Sudan, Somalia, Eritrea and Ethiopia – were caught in a farm near the central town of Jufra, and another 170 were detained nearby.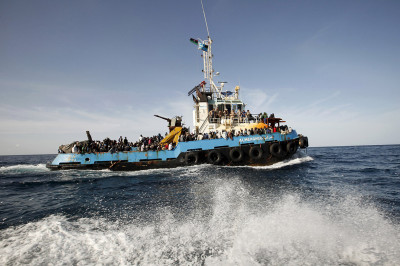 Shocked by last month's record disaster, European Union leaders agreed to triple funding for the EU sea patrol mission Triton, but there is still disagreement on what to do with the people fleeing conflict and poverty in various parts of Africa and the Middle East.
Italy has coordinated the rescues by its own navy and coast guard, a French ship acting on behalf of the European border control agency, merchant ships of various nationalities and one vessel run by the privately funded Migrant Offshore Aid Station.