Sinai plane crash: Co-pilot of Russian plane A321 concerned over 'technical condition of the aircraft'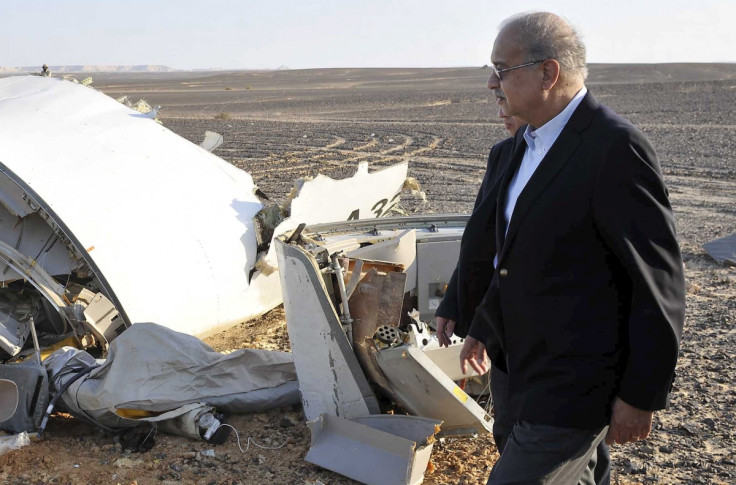 Sergei Truckahev, the co-pilot of Flight KFL-9268 which crashed in Egypt's Sinai peninsula had complained about the state of the plane, his wife claimed. He reportedly called his daughter shortly before the Airbus 321 crashed into a mountainous area, killing 217 passengers and seven crew on board, including 25 children.
State-controlled NTV ran an interview with Natalya Trukhacheva, identified as the wife of co-pilot Sergei Trukachev. She said that his daughter "called him up before he flew out. He complained before the flight that the technical condition of the aircraft left much to be desired."
An Egyptian official said that before the plane lost contact with air traffic controllers the pilot had radioed and said the aircraft was experiencing technical problems and that he intended to try and land at the nearest airport, according to AP. Data shows it was plunging 6,000ft per minute before it lost contact.
Vladimir Putin has declared Sunday (1 November) as a national day of mourning, and the Kremlin has sent an emergency response team to the site of the crash to follow up on the investigation. So far, 160 bodies have been recovered and flown to morgues in Kabrit military airbase in Suez. Another plane has flown to Egypt, starting the process of repatriating the victims. All but four of them were Russian nationals, and the rest were Ukrainians.
Egypt's prime minister Sherif Ismail said that technical fault was most likely the cause of the plane crash. Moscow also played down claims that Islamic State was responsible for downing the jet, doubting whether militants would have the firepower to bring down an aircraft flying at 31,000 feet.
The plane's black boxes have been recovered, which should give clues as to what caused the crash.
The Russian airline Metrojet says the aircraft was in good shape and the pilot was experienced. In a statement on its website, Moscow-based Metrojet says the A321 received required factory maintenance in 2014.
The statement identified the captain of the plane as Valery Nemov and said he had 12,000 air hours of experience, including 3,860 hours in A321s.
Airlines which have decided to avoid flying over the Sinai Peninsula include Air France, Lufthansa and Emirates. A company spokesperson said: "Emirates is currently avoiding flying over the Sinai peninsula until more information is available. We are closely monitoring the situation. The safety of our crew and passengers are our top priority."
© Copyright IBTimes 2023. All rights reserved.