Singapore street food hawker earns Michelin star for £1 soya sauce chicken
The chef chops up 180 chickens a day to satisfy the long queues of hungry customers.
Malaysian-born Chan Hon Meng asked Michelin inspectors if they were joking when they invited him to an awards ceremony. He was stunned by the news that he had achieved a world-first Michelin star for his street food stall.
The hawker chef said: "When I received the invitation I was uncertain."
"I asked them, 'Are you joking? Why would Michelin come to my stall?'" he added.
"I said, 'I've never heard of Michelin inspectors visiting a street stall, can even a hawker be nominated?'
"He said, 'We only judge based on the food, not on the venue.'"
Michelin Guide inspectors rated the hawker stall on their website: "Always a queue. Offers Cantonese soya sauce chicken and BBQ pork."
The 51-year-old is also the chef at Hong Kong Soya Sauce Chicken Rice and Noodle in Singapore. He trained in Hong Kong, regularly works a 17-hour day and has been working in the food industry for 35 years. "I now start at 5am or 6am when previously, I'm at my stall only at 7am," he told Today Online . "I now prepare 30 more chickens. That's a total of 180 each day."
Chan's food stall is so popular that queues of over 100 people regularly wait patiently to buy a portion of the Hong Kong-style soya sauce chicken which is now the most affordable Michelin-starred meal in the world.
"I don't know how good it is, but I think we just trust the queue," student Joel Neo told the Guardian. He had already been waiting for over an hour and expected to stand for a further hour before receiving his meal.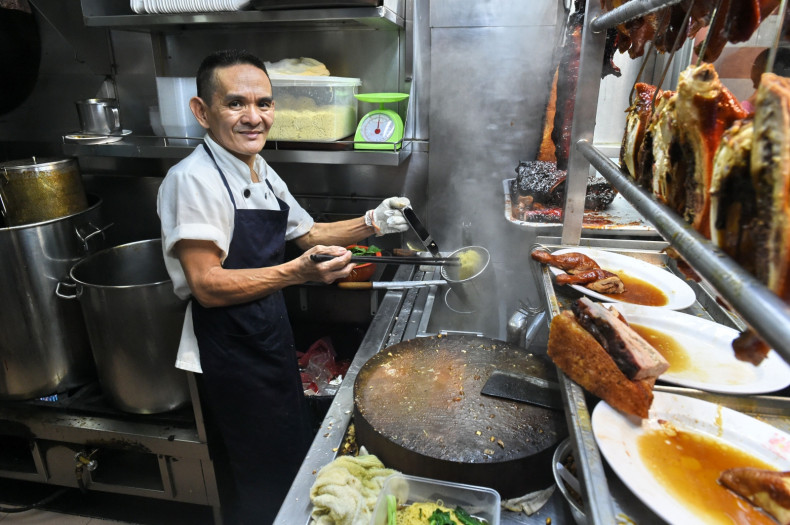 On receiving the award Chan said: "Never knew hawker food can go global," he told Reuters. "Hopefully the next generation will also pick this up."
There are around 20,000 street food stalls in Singapore and local food blogger Aun Koh who writes at chubbyhubby.net has welcomed the recognition for the hawkers. "These are people who work very hard and often for little rewards," he said.