Elite British Forces, operating covertly in Libya, have used a prototype weapon system known as "the Punisher" as they fight to liberate the city of Sirte from the Islamic State (Isis). The Sunday Times reported that the US-made, precision grenade launcher was used by the SAS in the North African nation, according to fighters who witnessed the attack.
One fighter, who is aligned with Libya's internationally recognised government of national accord, described how the British troops, dressed in Libyan fatigues and treated "like celebrities" by the militiamen fighting alongside them, had used the weapon to force IS (Daesh) to give up its position.
He said the barrage of grenades, which travelled a long distance and then exploded above IS fighters, kicked-off an hour-long firefight in Sirte, the hometown of former Libyan leader Muammar Gaddafi.
It appeared the SAS troops knew where the IS positions were. They were reported to have chosen the snipers nest on the outskirts of the town, firing directly on the militants as they hid.
"They [the British] arrived in a very purposeful way, as if they had specific information about Isis positions, and took over our regular sniper's position on the roof," the Libyan fighter was quoted by the Sunday Times as saying.
"They initially fired several unusual missiles. These were like small bombs which travelled very far and exploded in the air behind enemy lines, scattering shrapnel," he added.
The SAS carefully removed all remnants from the attack, including shell and bullet casings.
The Punisher grenade launcher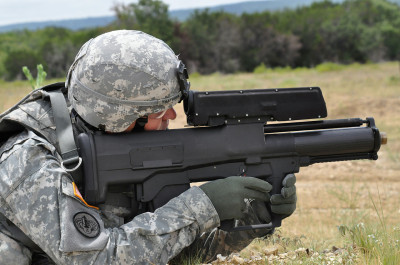 Officially called the XM25 Counter Defilade Target Engagement (CDTE) System, or Individual Semiautomatic Air Burst System, the Punisher is a semi-automatic grenade launcher that resembles a large rifle.
The weapon fires 25mm grenades that are designed to explode in mid-air, above or near its targets, by using a laser rangefinder that programs the grenades to detonate at a certain distance. The airburst explosion maximises the devastating force of the explosion, as none of it is soaked by the ground.
Like many high-tech weapons, the Punisher has a troubled development history. It was first used in the field in 2010, and was due to enter general service in 2015. But it now will not see widespread use until 2017 at the earliest.
The Ministry of Defence does not comment on special forces operations and Britain has explicitly ruled out deploying conventional forces to Libya for the time being. However, reports have emerged of elite British troops leading the fightback against IS in Libya and Syria. This exchange with IS insurgents in Iraq appears to be the longest they have been involved in.
In the past, there have been accounts of the forces using Javelin anti-tank missiles and armour piercing bullets to destroy IS vehicles, and using a guided missile to destroy a tank.