Gerry Adams has been released by police, after four days of questioning surrounding the unsolved murder of Jean McConville over 40 years ago.
The President of Sinn Fein was arrested on Wednesday (30 April), a move which caused fury within the Irish Republican movement.
Mr Adams, who is the Teachta Dála (TD) for Louth in the Irish Republic, has always denied having any involvement in the murder of widow and mother-of-ten Mrs McConville, who went missing from her West Belfast home in 1972.
Adams, a former MP for West Belfast, also denies ever having been in the IRA.
On Friday police were given another 48 hours to quiz the politician. There have been reports that he was interviewed for up to 17 hours each day, though this has not been verified.
The Police Service of Northern Ireland (PSNI) will send a file on the case to Northern Ireland's Public Prosecution Service (PPS) who will decide if there is any evidence to charge Adams.
McConville was abducted from her West Belfast home and murdered in 1972, having been wrongly suspected of being an informer or "tout".
Her children, who witnessed their mother being dragged away, were told she had abandoned them and were only given the location of her body on a Louth beach in the Republic of Ireland in 2003.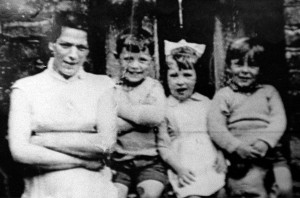 Since Mr Adams' arrest, his colleagues within Sinn Fein have claimed he was imprisoned for political reasons, and even raised the possibility that Sinn Fein may stop co-operating with the PSNI if he was charged.
At a rally on the Falls Road the Sinn Féin politician and deputy First Minister of Northern Ireland Martin McGuinness said there were some within the police force "who are against the peace process and hate Gerry Adams and hate Sinn Fein." He added his party could not support police officers "acting in a politically biased and partisan fashion."
That drew a stinging rebuke from the Democratic Unionist Party's Peter Robinson, the First Minister, who said:
"I warn Sinn Fein that they have crossed the line and should immediately cease this destructive behaviour."