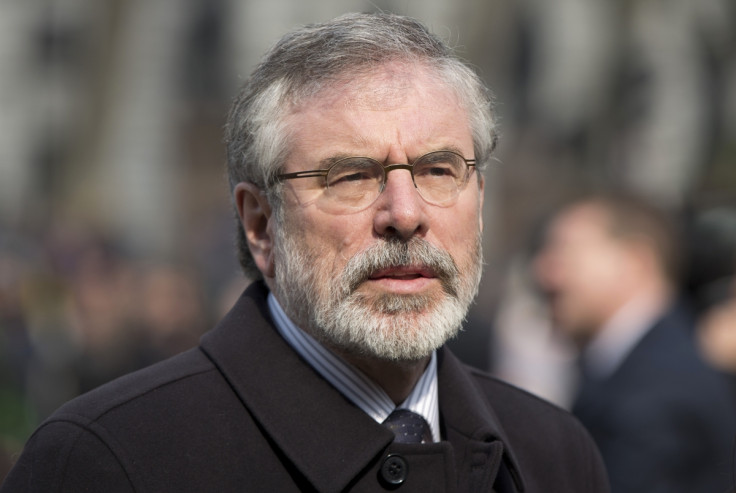 Sinn Fein president Gerry Adams has been criticised for using the N-word in a tweet about the film Django Unchained, where he compared the struggle against slavery in the US to the plight of Irish nationalists. He later removed it after he was branded a racist.
Days before the Northern Ireland Assembly election, the Irish republican leader tweeted: "Watching Django Unchained – A Ballymurphy N****r!" It was followed quickly by "Django – an uppity Fenian!"
Starring Jamie Foxx as Django, Quentin Tarantino's film is about slavery in America's deep south in the late 1850s, focusing on slavery, racism, violence and murder.
It appears that Adams was trying to compare Django's treatment to that of nationalists in the Ballymurphy area of Northern Ireland, where nine men and one woman were fatally wounded between 9 and 11 August, 1971.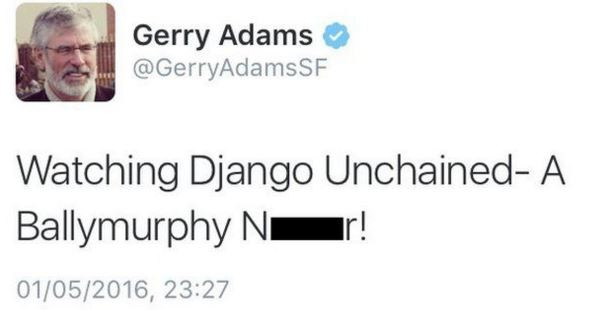 Among the dead were a local priest, who was shot twice while giving last rites to a man who had also been shot. A 44-year-old mother of eight was also shot in the face.
At least eight of those who died appear to have been shot by soldiers from the British Army's Parachute Regiment. A ninth was shot by a soldier from a different regiment while a tenth was shot by an unidentified sniper. Another man died of heart failure, allegedly after being subjected to a mock execution by soldiers.
Quite what comparison Adams, who currently sits as the Teachta Dala, or MP, for Louth in Ireland, was trying to draw is unclear, but he was quickly rounded upon by critics for using the N-word.
One Twitter user called it disgraceful, while Labour Party councillor Peter O'Brien asked: "So this is acceptable is it?"
Friends of Adams, including journalist and former republican prisoner Tim Brannigan, who is of African heritage, have criticised him.
Brannigan told the BBC he was "shocked" that Adams had used the slur, adding: "Gerry and Sinn Féin won't need me to tell them just how toxic it is and the sort of reactions it gets. I don't think that you can equate what was happening in Belfast in 1965 with slavery."
After quickly deleting the tweets, Adams took to social media again to claim they were "ironic", adding that nationalists in the North were treated like African Americans.
Attempts to suggest he was a racist were "without credibility", he said in a later statement.
"The fact is that nationalists in the north, including those from Ballymurphy, were treated in much the same way as African Americans until we stood up for ourselves," he said.
He added: "If anyone is genuinely offended by my use of the N-word they misunderstand or misrepresent the context in which it was used. For this reason I deleted the tweets."