Career civil servant Sir Tim Barrow, 53, became the UK's permanent representative to the EU in January. The promotion of the former political director of the Foreign Office to Brussels sent an important message to May's critics at home and abroad: Sir Ivan Rogers, his predecessor, was replaceable.
"A seasoned and tough negotiator, with extensive experience of securing UK objectives in Brussels, he will bring his trademark energy and creativity to this job – working alongside other senior officials and ministers to make a success of Brexit," a Downing Street spokesperson said.
Barrow's appointment was also welcomed by Shadow Brexit Secretary Sir Keir Starmer. "It is of course vital that there should be no vacuum in such an important role and that the new permanent representative should be someone with a strong and distinguished record of service as a diplomat," he said.
The father of four has enjoyed a 30-year diplomatic career. First joining the Foreign Office from the University of Oxford in 1986, he would later work in the British Embassy in Moscow between 1990 and 1993.
In this posting, Barrow would have seen the collapse of the Soviet Union and the rise of Boris Yeltsin, the first president of the Russian Federation, first hand.
Vladimir Putin, KGB-man turned politician, would later describe the fall of the Communist empire as "the greatest geopolitical catastrophe" of the 20th Century.
With Putin's provocations in Ukraine and the alleged Russian hacking of the Democratic National Committee's email systems ahead of the US election, expertise of the Kremlin is back in demand.
Barrow, who also served as the UK's ambassador to Russia and to the Ukraine, knows Moscow and Brussels well. Knighted in 2015, he was praised for being at the forefront of "managing the complex and important relationship between the UK and Russia during an unprecedented period".
"He has tirelessly promoted UK's interests, including on human rights, fostering cultural and education links between the two countries, and supporting the UK's scientific, trade and economic interests in Russia," the citation added.
But Barrow's extensive experience, which includes previous postings to Brussels, is not enough to get former Ukip leader Nigel Farage on side.
"Good to see that the Government have replaced a knighted career diplomat with.... a knighted career diplomat," the Eurosceptic firebrand declared.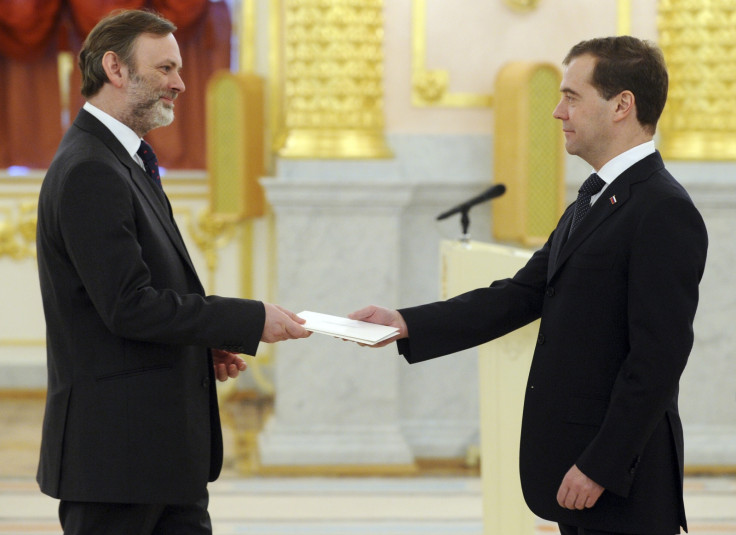 Barrow's career
2016: Political Director, member of the FCO board – overseeing international organisations, multilateral policy, Eastern Europe, Middle East and North Africa, Africa, South Asia and Afghanistan
2011– 2016: British Embassy Moscow – Her Majesty's Ambassador to Russia
2008 – 2011: UK Rep Brussels – UK Representative to the Political and Security Committee of the European Union and Ambassador to the Western European Union
2006 – 2008: British Embassy Kiev - Her Majesty's Ambassador to Ukraine
2005 – 2006: Deputy Political Director
2003 – 2005: Europe Directorate – Assistant Director EU External, including during the UK's Presidency of the EU in 2005
2000 – 2003: Europe Directorate – Head of Common Foreign and Security Department
1998 – 2000: Private Secretary to the Foreign Secretary Robin Cook – advising on EU, Russia and Middle East
1996 – 1998: UKRep Brussels – First Secretary (Antici), advising the UK Permanent Representative to the EU
1994 – 1996: Private Secretary to Minister of State
1993 – 1994: Head of Russia Section
1990 – 1993: British Embassy Moscow
1989: British Embassy Kiev – British Days Exhibition, showcasing British business excellence and expertise
1989: United Nations General Assembly
1988 – 1989: Russian Language Training
1987 – 1988: Europe Directorate - Desk Officer for Western Europe
1986 – Joined FCO
1986 - Graduated from Brasenose College, Oxford University, where he read English.