Following the release of the iPhone 4S and iOS 5 last week, it has been the personal voice-activated assistant Siri that has captured the headlines.
Siri is only available on the new iPhone 4S, leaving owners of older models in the dark, so here at the IBTimes we've found a few alternatives to bring Siri to your older iPhone.
Vlingo
Vlingo is a free application that can perform a wide range of tasks by taking vocal inputs from the user. Text messages, e-mails, tweets and Facebook status updates can be created by speaking to the app. Internet and locational searches can also be performed, and Vlingo can be used to make a phone call.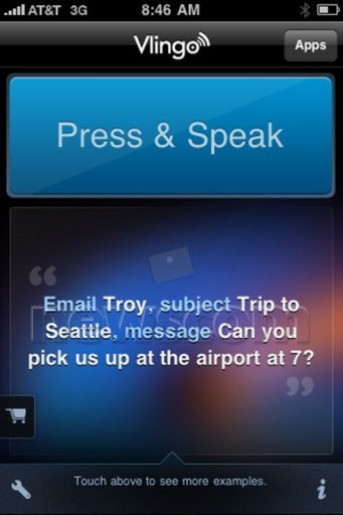 The ability to carry out locational searches - find the nearest coffee shop, for example - is important, because currently Siri is unable to do this anywhere outside of America. In testing we found Vlingo to work effectively and, for the most part, quickly. But the app does rely on a good data connection - decent 3G or Wi-Fi - in order to understand instructions spoken to it. When asking Vlingo to send a text message to a friend, "send a text to Max" opened a new message addressed to Max right away, but when we spoke the first line or text, the app took a long time to complete the request.
The app claims to "learn" your voice, and speech recognition will improve the more Vlingo is used. Also, punctuation can be added, for example "Can you call me please?" would result from saying "Can you call me please question mark."
We're willing to give Vlingo the benefit of the doubt and assume that the servers are being bombarded by new users keen to try out Siri-rivalling apps, so hopefully the speeds will improve. If they do, then Vlingo offers a very real alternative to Siri, minus the marriage refusals and rubbish jokes.
Dragon Go
Dragon Go capitalises from where Siri has left off, locational searches outside of the US. The app is more of a content-providing app than a personal assistant as Vlingo is. Dragon Go can find songs by a requested artist on Pandora, Last.fm and Spotify, as well as look up local shops and restaurants, help book a taxi and stream movies.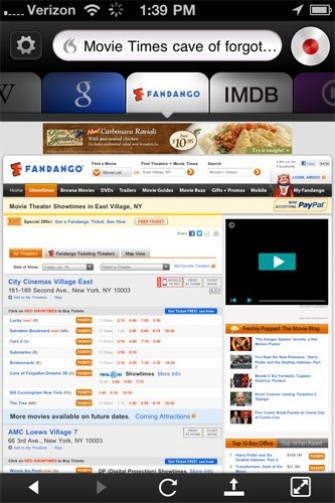 Results can be shared via Facebook, Twitter, text or e-mail - although you do have to tap an icon, rather than stating your desire to share - and Dragon Go also works without voice, acting as a one-stop-shop for search.
Google Search
Google has offered voice search for some time now, letting users conduct Internet searches by talking into their phone. Although Google will provide a wealth of results, it is still just a Google search, and not a more functional, segregated search as offered by Dragon Go. Again, this app can perform locational searches, in that a request for "Starbuck in London" will return what you're looking for, so out of the U.S. it's got one over on Siri in this department.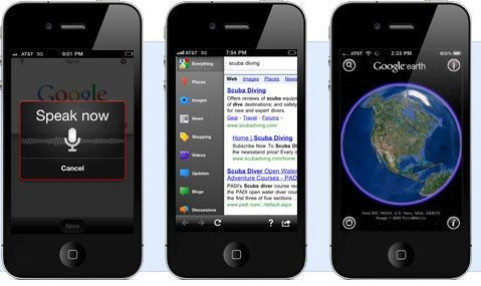 Google Search uses the iPhone's proximity sensor to activate the microphone when the iPhone is held to your face.
What Google can't do is the personal assistant features of Vlingo and Siri; sending text messages and composing emails cannot be done by Google search.
iPhone Voice Control
iPhone Voice Control was first introduced with the 3GS, and was updated to include FaceTime support on the iPhone 4. Voice Control lets you control music - play/pause, find similar tracks and shuffle playlists - as well as call contacts and tell the time. Voice Control is activated the same way Siri is - with a long press of the Home button - but its functionality is limited to music and making calls.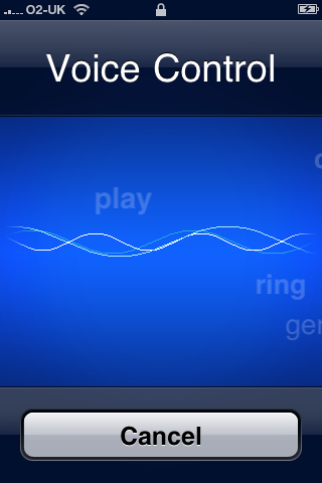 Where there's a will...
There's a way, and it took less than a week for hackers to get Siri working on an iPhone 4. At first it appeared slow and almost unusable, but now they've managed to get it working fairly well, as can be seen in this video. Expect pirated versions of Siri to be available to acquire through the usual jailbreaking techniques in the near future.