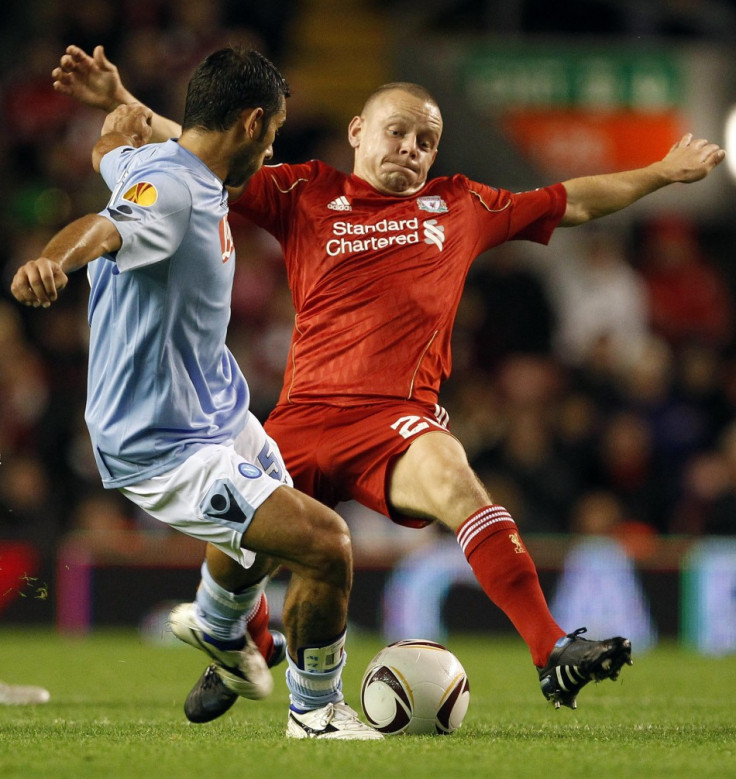 Liverpool defender Jamie Carragher has backed the diminutive Jay Spearing to fill the void in Kenny Dalglish's midfield following the season ending injury sustained by Lucas Leiva.
The Brazil international is out for the remainder of the campaign following the serious knee ligament damage sustained during Liverpool's recent Carling Cup tie against Chelsea.
Leiva has been one of the Premier League's outstanding performers this season and an integral part of Liverpool's recent revival, but Carragher believes Spearing has the ability and mentality to slot straight into the side.
The 23-year-old has played a peripheral role at Liverpool this season despite enjoying a breakthrough campaign last year. The midfielder has been used sparingly and predominantly in the Carling Cup but Carragher suggests the pint-sized midfielder has shown his pedigree on the rare occasions he has featured this season.
The Anfield veteran, who is struggling to dislodge Daniel Agger and Martin Skrtel in the heart of Liverpool's defence, is confident Spearing has enough quality in his armoury to compensate for the loss of Leiva, even though he acknowledges the Brazilian's untimely demise is unfortunate.
"It's up to someone else now to come in and try to do as good a job as Lucas was doing," Carragher told the Liverpool Echo. "That won't be easy as he's been as good as anyone in that position in the Premier League this season.
"But Jay Spearing was outstanding towards the end of last season. He was superb in our win at Fulham.
"In the Carling Cup this season he's also done really well. He has started away to Stoke and Chelsea - that's two of the toughest away games you can get in the Premier League. He's performed well and we got good victories in both of those Cup games.
"No-one will be worried one bit about putting Jay in there. He's proven before that he's more than good enough at this level and I'm sure he will prove it again."
"I've always thought Jay could do it for Liverpool," Carragher said. "He was part of the side who won back to back FA Youth Cups. From then on I expected him to be in and around the squad.
"I don't think a lot of improvement was needed because he's always had the tools. I just think the confidence and belief Kenny has shown in him has allowed him to go out there and perform at the top level."
Despite Spearing's diminutive 5ft 6inch frame, Carragher suggests his Liverpool teammate has more than enough presence to be a quality player for Kenny Dalglish's side.
"That's not a problem, look at Xavi, Iniesta and David Silva,
"Now I'm not saying Jay is as good as them, I don't think he will mind me saying that, but if you're good enough, your size doesn't matter.
"Jay's a fantastic passer of the ball and puts his foot in. That's exactly what you need in that position."