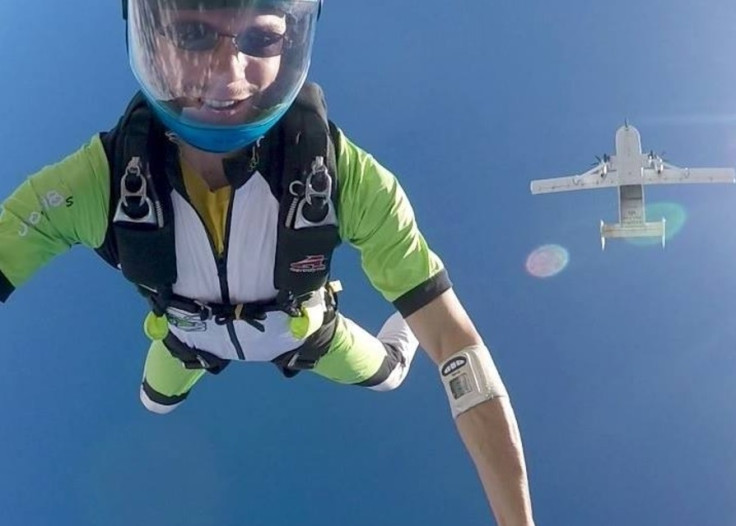 A skydiver sent a final tragic video message to his wife moments before he jumped out of a plane telling her he would not pull the cord to release his parachute. Capotorto Vitantonio, 27, told his wife "he was going somewhere wonderful" before falling thousands of feet to his death from the Florida sky.
Vitantonio was an experienced, licensed skydiver with hundreds of jumps under his belt. He worked for United Parachute Technologies, which manufactures parachute equipment, and his Facebook page is covered in pictures of his many jumps.
After he sent the video to his wife, Costansa Litellini, 25, she rushed to the Skydive DeLand centre to get a radio message to the pilot and stop her husband from jumping from the plane. But she was moments too late.
The Italian national's body was found at around 10:15am on 11 July face down in a field near the runway, according to the Orlando Sentinel, which had seen a copy of the police report.
"We express our deepest sympathy for his family and his friends," a spokesperson for Skydive DeLand told the Tampa Bay Times. It is the fifth death in four years at Skydive DeLand, which is a popular centre for skydivers of all abilities, though the others were all accidents.
"We give our [customers] a safe ride to altitude and we transport them using aircraft that has been considered the best maintained in the industry," Mike Johnston, a general manager at the Skydive DeLand, told the Daytona Beach News-Journal. "When a person steps out the door, they are responsible for themselves."
---
The Samaritans provides a free support service for those who need to talk to someone in the UK and Republic of Ireland. It can be contacted via Samaritans.org or by calling 116 123 (UK) or 116 123 (ROI), 24 hours a day, 365 days a year.
---