A girl accused of stabbing another child in the US carved creepy symbols on to her Barbie dolls and was obsessed with a fictional internet ghoul called Slender Man, a court has heard.
Morgan Geyser, 13, disfigured six toys with the insignia of the Slender Man character before allegedly attacking Peyton Leutner, 12, in Milwaukee.
The court was told how Geyser scrawled "I love killing people" on drawings of a girl being menaced by a larger figure.
Other scribbling found in Geyser's bedroom contained creepy statements such as "He is here always" and "not safe even in your house".
Geyser and Anissa Weier -- also 13 -- are accused of stabbing Leutner 19 times to appease the Slender Man after luring their friend into woodland near Milwaukee.
Leutner was stabbed after a sleepover party in an attack planned for months by Geyser and Weier. She survived the attack and returned to school. Lawyers for the girls claim they thought killing her would make them safe from the Slender Man.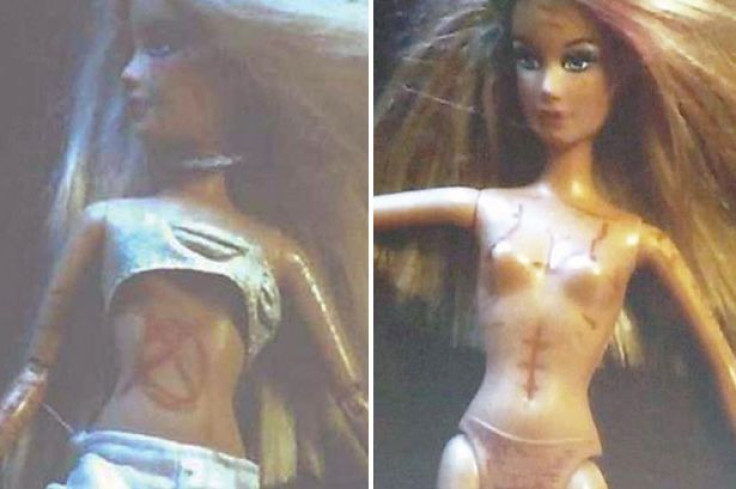 The defence teams are seeking to have them found mentally ill and for them to be tried in a youth court instead of a regular court -- where potential jail sentences are much longer. They face a charge of attempted homicide.
A ruling on where Geyser and Weier shall stand trial is due next month.
The faceless Slender Man character originated on the web, reportedly in a forum called Something Awful in 2009. The figure caught on with fans in disturbing images of the creature menacing young girls and spawned a slew of fan fiction horror stories.
In the wake of Leutner's stabbing, one web forum featuring Slender Man stories defended the disturbing stories. David Morales of the forum 'Creepypasta' told AP: "We are not teaching children to believe in a fictional monster, nor are we teaching them to be violent."