Americans narrowly support the missile strikes on a Syrian airfield ordered by President Donald Trump following the chemical weapons attack on Khan Sheikhoun in Syria, a new Washington Post-ABC News poll found.
Despite support for the attack, most Americans do not support additional military efforts to bring down the government of Syrian President Bashar al-Assad.
The Post-ABC poll found that 51% of Americans support the missile strikes launched on the Shayrat airbase on Friday (7 April). Another 40% oppose the missile strikes, with views dividing along partisan lines.
The president was praised by Americans on both sides of the political spectrum, but many remain split on what Trump's next move must be.
According to The Washington Post, 51% of Americans support a policy of trying to remove Assad from power, with 35% endorsing continuing with more military action to achieve that goal. However, 54% of Americans are against additional military strikes against the Syrian regime at this time.
Though Trump received praise from many Western powers for his decision to launch the missile strikes, the action did not boost confidence in his leadership among voters. The poll found that 25% each say it makes them "more confident" or "less confident" of Trump's leadership. A majority of respondents, however, said it does not make a difference in their confidence.
A majority of Americans – nearly 7 in 10 – said they are "not so" or "not at all" confident that the US missile strike will prevent the Syrian government from using chemical weapons. Only a quarter of those polled were at least somewhat confident the strikes would end Assad's government from using chemical weapons, the Post reported.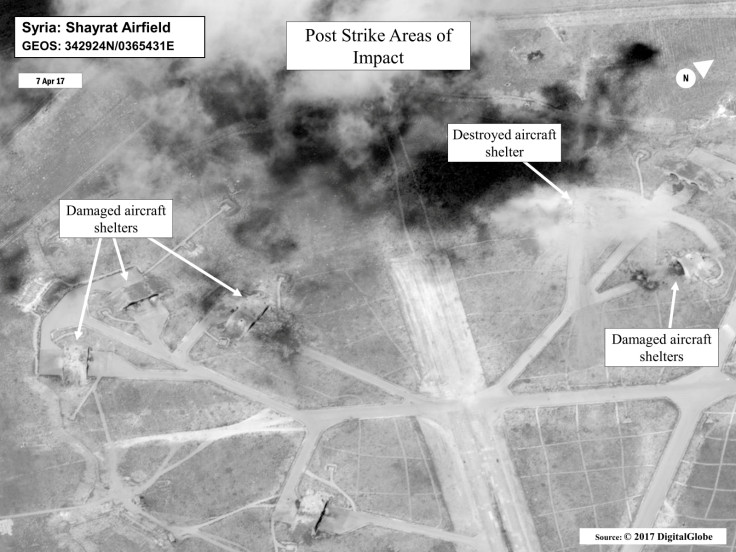 Most respondents – around 60% – also expressed concern that the missile strikes will worsen relations with Russia, an adamant ally of the Assad regime. A senior US official told the Associated Press (AP) that Russia knew ahead of time about the chemical attack on Khan Sheikhoun.
Officials claim that a Russian-made jet bombed a hospital where victims of the chemical attack were seeking treatment in an attempt to cover-up the use of chemical weapons. Prior to the attack, a drone was seen flying over the hospital. However, it was unknown at the time whether Russian or Syrian authorities were operating the drone.
The US official said that Russia operated the drone and that it must have known ahead of time that the attack would occur and where victims would seek treatment. The attack in Khan Sheikhoun was the reason behind Trump's call to fire nearly 60 missiles at a Syrian airbase.